Last Updated on August 6, 2021 by Galaxy World
Ministry of Interior, Government of Pakistan has issued a Notification on 14-01-2021 in connection with Notification of Holiday on 5th February 2021 Kashmir Solidarity Day.  According to the Notification, there will be a Public Holiday in the whole country. The details of the Notification are as under:
It is notified for general information that 5th February 2021 (Friday) shall be a public holiday for observing "KASHMIR SOLIDARITY DAY" with Kashmiris to signify political and moral support in their struggle for self-determination and to honor Kashmiris Shuhada. One minute silence shall be observed at 1000 hours on the same day.
The government of Pakistan announces this Holiday every year to support the innocent Kashmiris.  This holiday Ministry of Interior has also included in the Public & Optional Holiday 2021 Notification.
The people of Pakistan observe this Holiday to tribute to the Kashmiris sacrifices in the struggle to get freedom.  They are fighting for a long to achieve the goal of freedom. United Nations Organization has already approved the resolutions in favour of the Kashmiri People but in vain.  One day they will succeed in their struggle and will get freedom. Indian occupied Kashmir will be a Part of Pakistan one day. (In Sha Allah).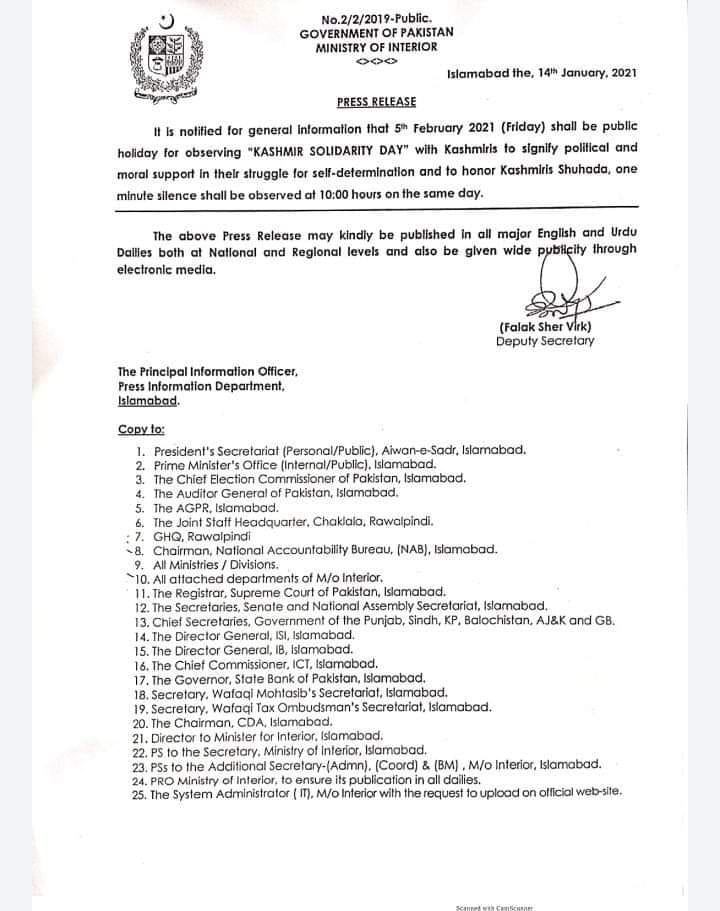 Express Story
The Daily express dated 21-01-2021 also shared the same news. According to the paper, the Ministry of Interior Pakistan has issued the Notification for a general holiday on 05-02-2021.