Last Updated on August 6, 2021 by Galaxy World
Government of Balochistan, Services and General Administration Department has issued a Notification on 17-02-2021 in connection with Considering for Promotion a Retired or Died Employee if Promotion Case is Complete.  The details are as under:
Promotion a Retired or Died Employee if Case is Completed
The undersigned is directed to refer to the following S&GAD's circulars:
letter No. S.O (R-I)(15)2012-S&GAD/2216-2315 dated 17th July 2012,
circular letter No. S.O(R-I) I(15)2012-S&GAD/3488-3587 dated 31st December 2012,
letter No. S.O(R-I) 1(15)2013 S&GAD/1132-1231 dated 25th March 2013, letter No. S.O(R-I) 1(15)S&GAD-2014 / 2388-2487 dated 30th October 2014,
circular letter No. S.O(R-I) 1(15)S&GAD-2016/2153-2252 dated 18th August 2016, letter No. S.O(R-I)S&GAD-2018/3340-3439 dated 30th July 2019,
circular No. S.O(R-I)I(15)S&GAD-2018/4904-5003 dated 11th November 2019
letter No. S.O(R-I)1(15)S&GAD-2020/3168-3267 dated 27th October 2020
The Government of Balochistan is pleased to insert the following new clause,(c), after sub-clause (b) of Paragraph 19 of the Balochistan Civil Servants' Promotion Policy-2012:-
            "If a civil servant whose promotion case is complete in all respect and referred to the Provincial Selection Board but due to non-holding of the meeting of the Provincial Selection Board, the said civil servant stands retired or died, shall also be considered for promotion one day before his/her retirement of death as the case may be"
 2. Administrative departments are requested to strictly adhere to the aforesaid amendment and also bring to the notice of all Attached Departments/ Subordinate Offices, under their administrative control for compliance.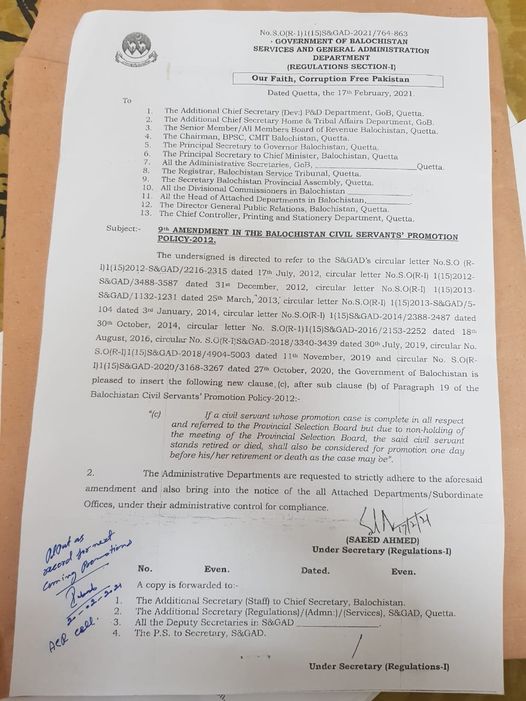 You may also like: Download  Revised Pay Scale Chart 1972 to 2017