Provincial Education Minister Punjab has issued instructions for the Closing of Sends Up & Entry Tests in Schools till 19th March 2021 in educational institutions. Due to the increase in the number of COVID-19 cases, the Punjab Government wants to close all the schools/colleges in the Province of Punjab. That is why the Education Minister has issued instructions to wind up the tests programs in schools and colleges.
Closing of Sends Up & Entry Tests in schools
All Public & Private schools are only allowed to take examinations (Send Ups & Entry Exams) till Friday 19th March 2021. After Friday all Schools will be shut down completely. Please adjust your schedules accordingly. Anyone in violation will be sealed.
Note these instructions are for all the private and government schools of the province of Punjab. SO the schools should now complete the process of eatery tests and send up exams.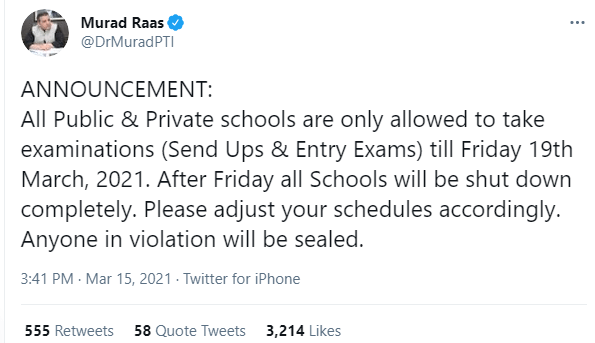 At this moment only educational institutions in particular districts are closed. Federal Government has also closed the educational institutions for the federal areas of Islamabad. Federal Government Educational Institutions in Rawalpindi, the Government has also closed. In Khyber Pakhtunkhwa, Provincial Government has announced spring holidays 2021 in District Peshwar. Now the ratio of corona cases is increasing all over Pakistan and especially in Punjab Province. Keeping in view the situation Punjab Govt will announce spring break in other districts too.
Clarification of Announcement of Holidays
Mr. Murad Raas has clarified his previous tweet and said that this announcement is only for Lahore, Rawalpindi, Multan, Sialkot, Faisalabad, Gujranwala, Gujrat, and Sargodha.