Last Updated on November 25, 2022 by Galaxy World
Board of Intermediate Education Board Karachi has issued a press release on 17-03-2021 in connection with Model Papers as per Reduced Syllabus for Annual Exams 2021 BIE Karachi. The details are as under:
Model Papers as per Reduced Syllabus BIEK
For the facilitation of students, on the instructions of Chairman B.I.E Karachi, Board has issued the Revised and Reduced Model papers for annual examinations 2021 for the students of intermediate.
English Normal (Part-I)
English Normal (Part-II)
Chemistry (Part-I)
Chemistry (Part-II)
Physics (Part-I)
Physics (Part-II)
Botany (Part-I)
Botany (Part-II)
Zoology (Part-I)
Zoology (Part-II)
The Karachi Inter Board is also preparing the other subjects' model papers. The board will very soon issue these papers too. The students can download the model papers as under:
Download BIE Karachi Board Model Papers
It is to remember that the model papers consist of the following pattern:
50% Multiple Choice Questions (MCQs)
30% Short Answer Questions
20% Detailed Answer Questions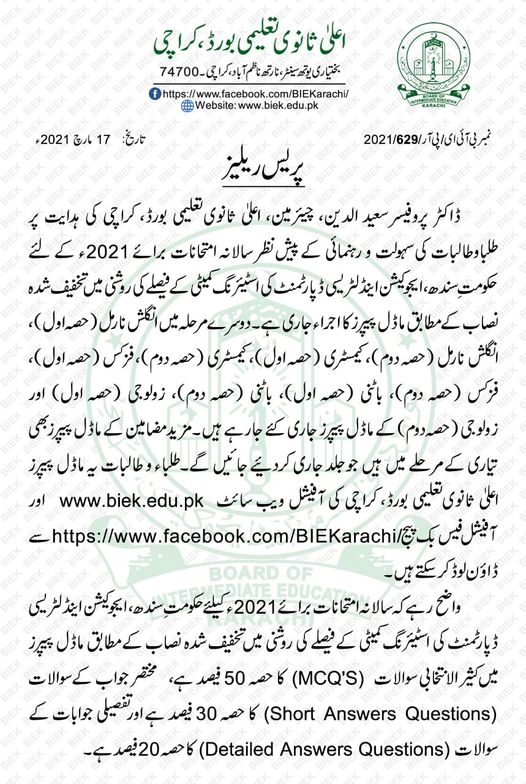 It is to mention here that BSE Karachi has already issued the Model Papers 9th & 10th Class for the annual examinations 2021. The students and teachers can get help from these model papers. They should prepare as per the instructions and sample of these model papers.