Last Updated on August 6, 2021 by Galaxy World
Government of Sindh, Services, General Administration & Coordination Department has issued a Notification on 17-03-2021 in connection with Public Holiday on 23rd March 2021 Sindh. The details are as under:
No CTC/(SGA&CD)/27(04)/2006:- The Government of Sindh declares Tuesday 23rd March 2021 as a Public Holiday on the occasion of "Pakistan Day" throughout the Province of Sindh.
This Holiday, the all provincial and Federal Governments of Pakistan observe every day to commemorate Pakistan Day. As of 23-03-1940, the resolution of Pakistan, Muslim League passed in Lahore.
            Special thanks to Mr. Zahid Khan for sending the copy of the Notification of General Holiday on 23rd March 2021 Sindh.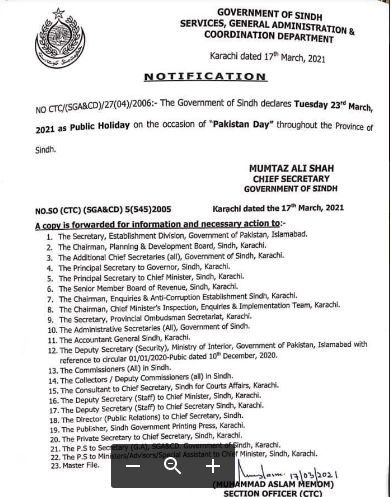 You may also like: Public and Optional Holidays 2021