Government of Pakistan, Finance Division (Regulation Wing) has issued a Notification on 31-03-2021 in connection with Grant of Time Scale to Private Secretaries (BPS-17) in Federal Ministries/Divisions/Departments.
Grant of Time Scale to Private Secretaries (Criteria/Conditions)
The undersigned is directed to state that Prime Minister has been pleased to approve the following revised conditions/criteria for grant of Time Scale to Private Secretary (BPS-17) with immediate effect:
A private Secretary (BS-17) will be granted a time scale BS-18 after putting in 5 years of service in BPS-17. The Private Secretary (Time Scale BPS-18) will further be granted time scale BPS-19 on completion of 12 years service in BPS-17 and above. However, on grant of time scale BPS-19 nomenclature of the post will be Senior Private Secretary.
In the light of approved revised conditions, the benefit of Establishment Division OM of the dated 02-06-1983 will not be admissible to Private Secretary (BPS_17) for grant of Time Scale BS-18 and BS-19.
For you: Creation of 31 posts of Superintendents
Finance Division's O.M of the dated 23-12-2011 shall stand amended to the extent of Private Secretary.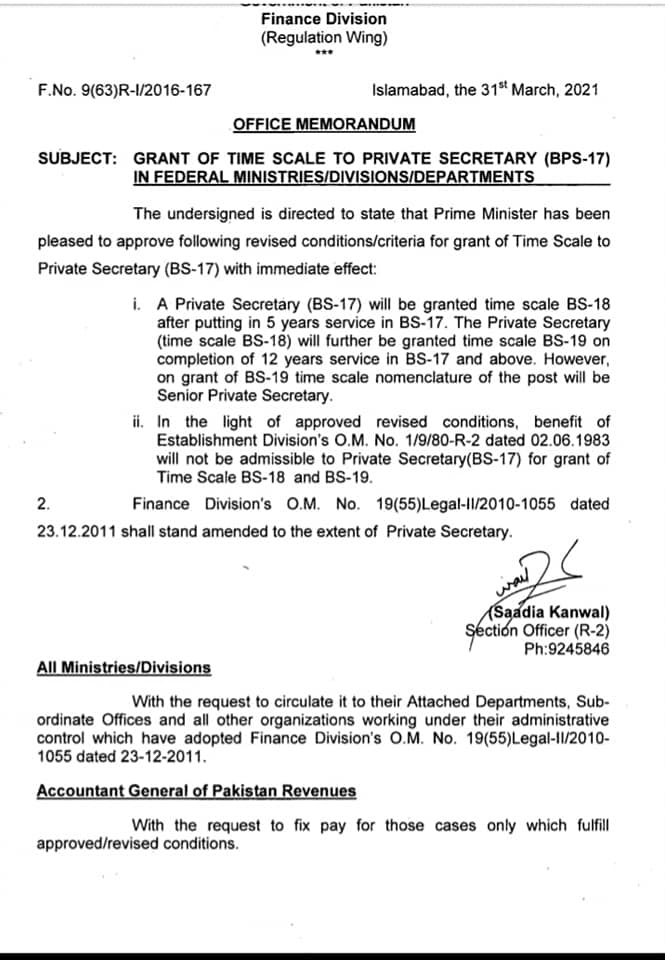 You may also like: Recruitment Rules for Private Secretaries, Superintendent