Government of Sindh, Services, General Administration & Coordination Department has issued a Notification on 26-04-2021 in connection with Closing of All Offices in Sindh Province except Essential Services. The details are as under:
Closing of All Offices in Sindh
In the wake of a consistent increase in the positivity ratio of COVID-19 cases, the following directions the Government issues with immediate effect:-
All the Departments/offices of the Government of Sindh will remain closed except essential services with minimum employees on duty;
The staff will work from home, and no one will leave the headquarter without prior approval of the Competent Authority;
Administrative Secretaries / Head of Attached Departments may call essentially required staff to assist in official assignments, on a need basis, which must not exceed 20% of the working strength of the Department/office;
The office timings will be 09:00 am to 02:00 pm;
Visitors will not be allowed in Sindh Secretariat.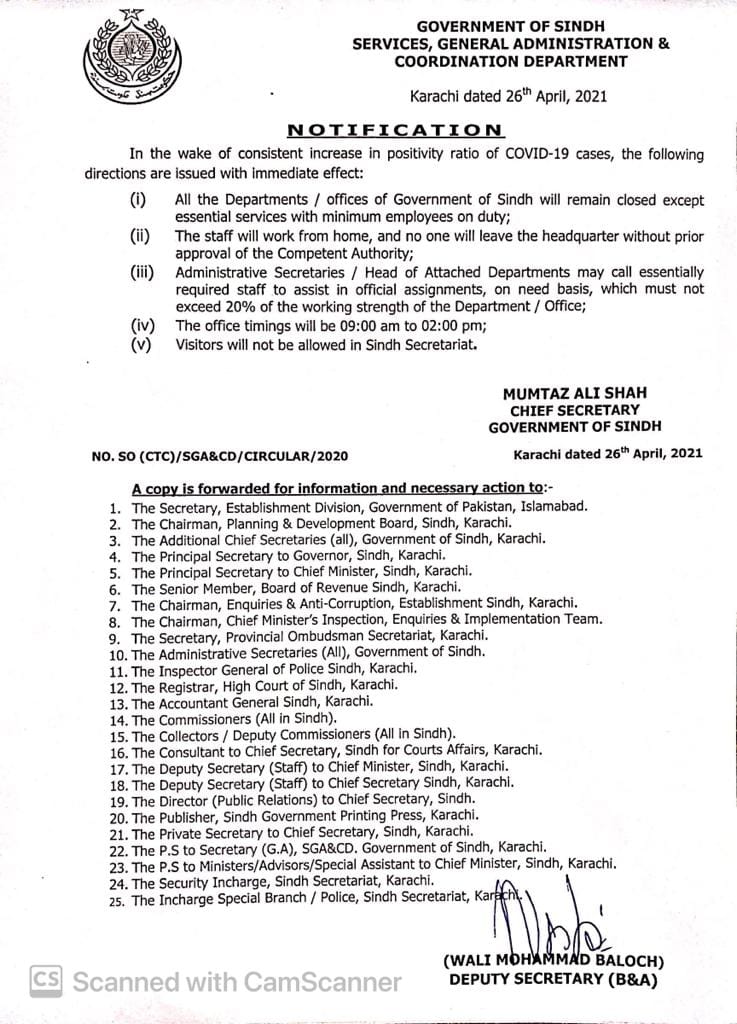 You may also like: Fake Notification of Eid-ul-Fitr 2021 Holidays
Sindh Government has already announced for closing the educational institutions up to 17th May 2021. Now the schools will open in Sindh after Eid-ul-Fitr 2021. The staff of the offices must remain present at the work station. They must not leave the station unless necessary and after permission of the head of the office.