Last Updated on August 6, 2021 by Galaxy World
Finance Department, Azad Government of the State of Jammu & Kashmir Muzaffarabad has issued a Notification on 01-06-2021 in connection with Upgradation and Re-Designation of the Post of Data Entry Operator (DEO) in AJK. The details of the same are as under:
Re-Designation of the Post of Data Entry Operator & Upgradation
The President Azad Jammu & Kashmir has been pleased to accord approval for up-gradation  / re-designation of the posts of Data Entry Operator BS-12 as Stenographer BS-14 in all Government Departments subjects to the condition that in further Finance Department Shall not create any post of Data Entry Operator and Educational Qualification "Bachelors in Computer Sciences' shall be provided in the Service Rules of the Post of Stenographer BS-14 to Enhance the capacity of the Stenographers.
Summary:
Congratulations to all the DEOs for the up-gradation of their posts to BPS-14. Now they have also has the same scale as Federal Government but different nomenclature. I hope the remaining provinces will also upgrade the post of DEO to BPS-14. In this way, they will also get the same pay scale.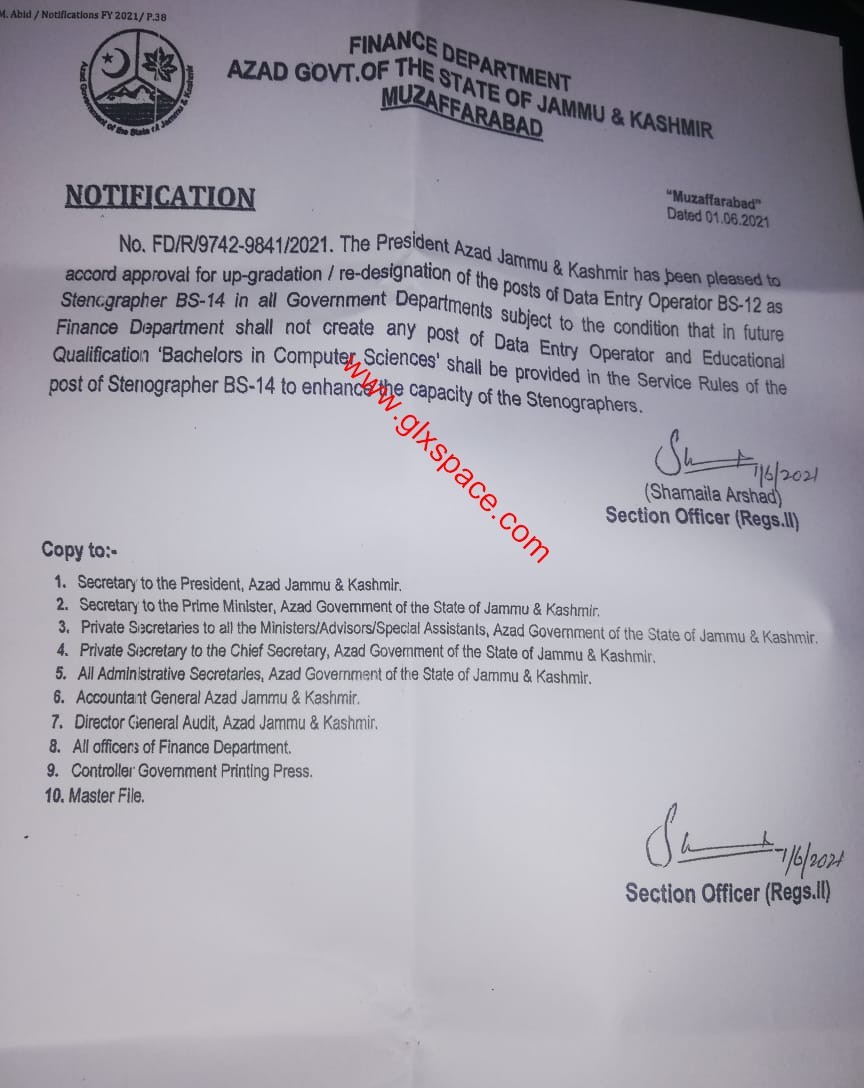 The Finance Department AJK has sent a copy of this Notification to all the concerned for their compliance. It is a piece of very good news for these employees. They will not only get the benefit of Higher Pay SCale but there is also news regarding an increase in salaries in budget 2021-22. SO they have the double good news.