Last Updated on October 30, 2021 by Galaxy World
Government of the Punjab, Finance Department has issued a Notification on 21-06-2021 in connection with the Upgradation of the Post of Assistant Librarian in Punjab.
Upgradation of the Post of Assistant Librarian
I am directed to state that the Governor of Punjab has been pleased to upgrade the post of Assistant Librarian, having prescribed qualification of Intermediate with Certificate in the post of Library Science from BS-8 to BS-11, in relaxation of the ban on up-gradation of posts, w.e.f 03.06-2021.
The incumbents of the upgraded posts will also stand upgraded and their pay will be fixed at the stage next above their basic pay in their lower pay scales w.e.f. 03.06.2021. No premature increment is admissible on the up-gradation of posts in terms of the policy of the Punjab Government.
The expenditure incurred on the above up-gradation of posts shall be borne by the respective Administrative Departments. The Finance Department will issue no supplementary grant in this regard.
Summary of the Up-gradation of Asstt Lib
Post: Assistant Librarian
Previous Basic Pay Scale: BPS-08
New Upgraded Pay Scale: BPS-11
Date Effective: 3rd June 2021
Premature Increment: No Premature Increment
Next above Pay Fixation: The Accounts office will fix the Pay to the next above the stage of the higher scale
Qualification: Intermediate with a certificate in Lib Sciences
Province: Punjab province assistant librarians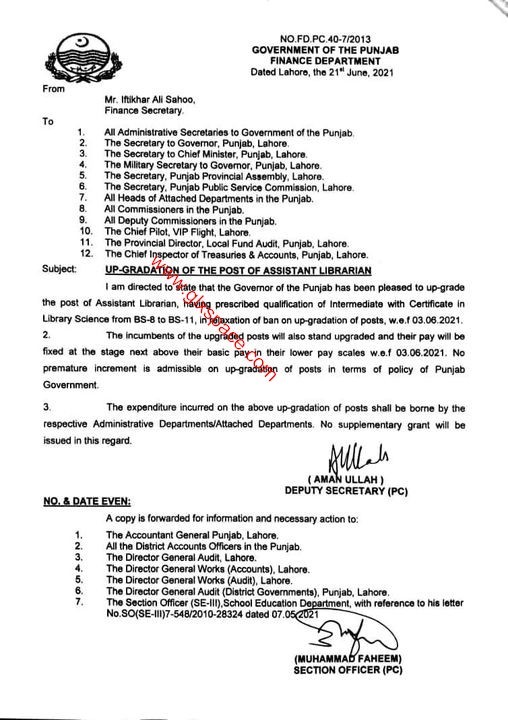 You may also like: Teaching Allowance to Librarian, Assistant Librarian