Last Updated on August 8, 2021 by Galaxy World
It is to announce here the Admission Open Kohsar University Murree 2021 session. The following BS 4 Years programs are offering the Kohsar University Murree.
Admission Open Kohsar University Murree 2021
Mathematics
Bioinformatics
Psychology
English
Computer Science
Forestry
Botany
Tourism and Hospitality
Sociology
Microbiology
How to apply?
Prospectus / Admission forms are available at Admin Block of Kohsar University Murree (Kashmir) by depositing Rs.1000/-.
 Applicants can mention maximum three preferences for which they want to get admission on the same application form.
Application forms duly filled, signed and completed in all repects must be submitted by respects must be submitted by hand on or before the closing date.
Closing date
General
Total number of seats allocated for each program is 50; University can increase seats in any/all departments if so required.
All the applicants shall apply separately on open merit seats if that are eligible.
Contact Us:
Registrar
Kohsar University Murree
Admin Block: 051-9269171, 051-926970
Boys Campus: 051-3410458
Girls Campus: 051-9269108
Web Site: kum.edu.pk
For any query please email us on: [email protected]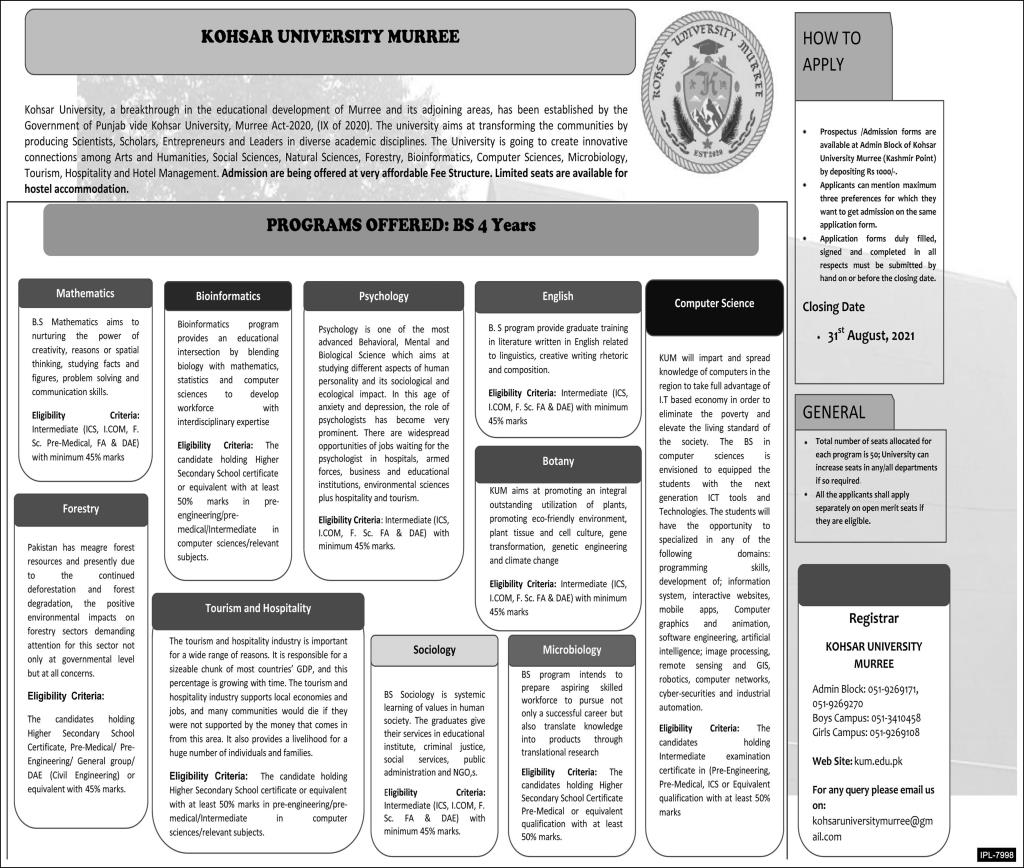 The willing students can get admission in the above subjects of BS 4 Years Courses within the due date. Details of each subject the University has shown on the advertisement of admission.