Last Updated on February 6, 2023 by Galaxy World
Federal Board of Intermediate & Secondary Education Islamabad has announced the schedule of Registration FBISE Class XI Session 2021-2023.
Summary for Schedule of Registration FBISE Class XI Session 2021-2023
Schedule of registration for Regular Students
Class 11th Session 2021-2023
Schedule of Admission in the institution
Last Date for Admission                   01 November 2021
Admission with Special Permission of chairman with Rs 800/- (inland) /US $ 20/- (abroad) Per candidates as special permission fee up to 30 November 2021
Schedule of Receipt of Registration Return
Receipt of Registration Return with             up to 15 December 2021
Normal fees @ Rs 800/- (inland) /US $ 75/- (abroad) per candidate
Late Submission of Registration Return
In case, a candidate is admitted within the stipulated period mentioned above but registration return is not submitted within the stipulated period i.e. up to 15 December, 2021 a surcharge of Rs 800/- (inland) /US $ 20/- (abroad) Per candidates will be levied up to fifteen days after the announcement of schedule of examination/admission form.
Federal Board Islamabad has already announced the Registration Return for Class 9th for the Session 2021-23. The educational institutions will submit the registration fee and forms as per schedule. The Schedule of registration returns is only for regular students. These students are studying/admitted to schools/colleges affiliated with FBISE Islamabad.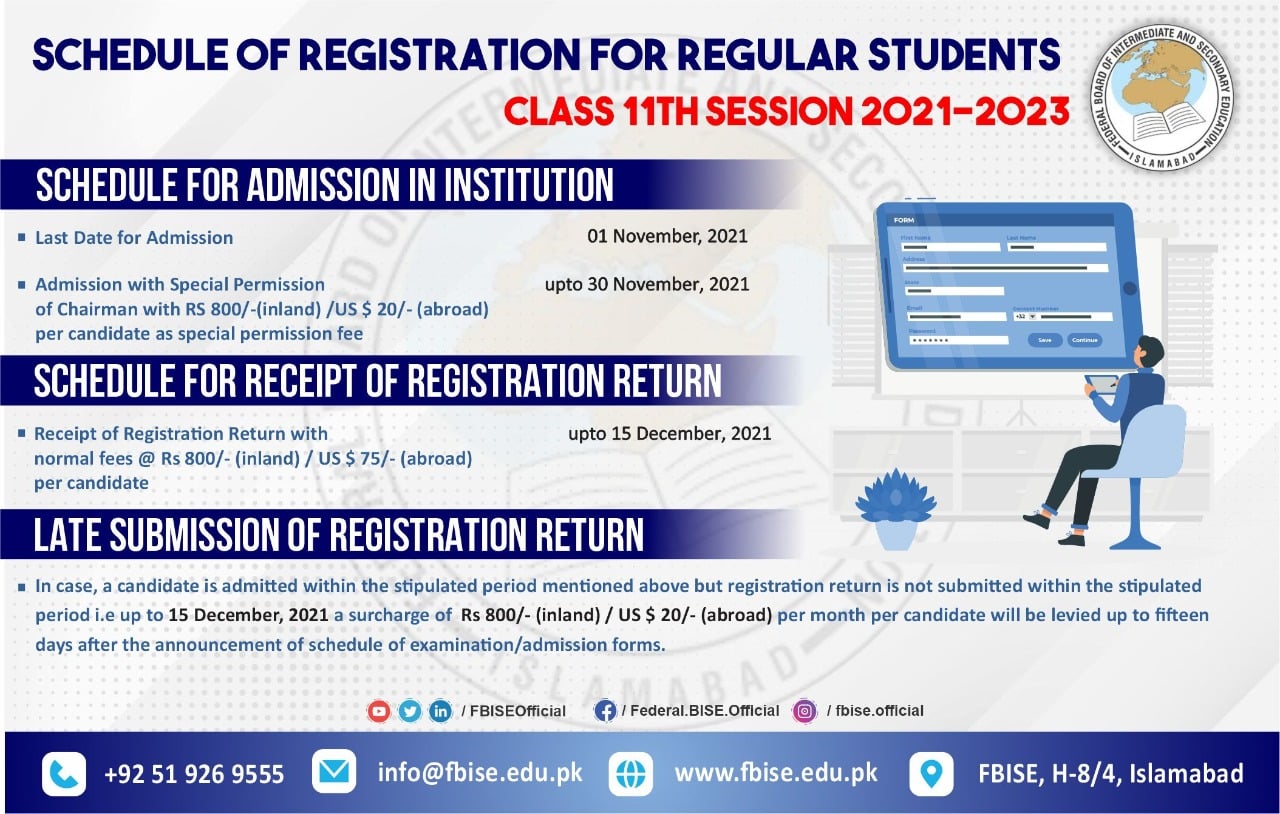 As far as the Result of SSC and HSSC of FBISE Islamabad 2021 are concerned, there are no final updates in this regard. There are chances that the Federal Board will announce the result after 20th September 2021. However, the Date of Announcement of SSC/HSSC Annual Result 2021 BISE Multan has been declared. Matric Result is at the end of Sep 2021 and Inter Result at the Mid of Oct 2021 for Multan Board. Now it is the responsibility of the educational institutions that they would submit the registration return well in time.
Info Details:
Contact No: +92-519269555
Email: [email protected]
URL: www.fbise.edu.pk
Address: FBISE, h-8/4, Islamabad