Government of Pakistan, Finance Division issued a Notification on 05-07-2022 in connection with Creation Anomaly Committee Basic Pay Scales 2022. The details are as under:
Creation Anomaly Committee Basic Pay Scales 2022
The undersigned directs to say that an Anomaly Committee with the following composition they have constituted in the Finance Division (Regulations Wing) to resolve anomalies arising out of the implementation of the Revised Basic Pay Scales and Pension, 2022 pertaining to civil employees of Federal Government paid from civil estimates and/or from defence estimates, Personnel of Armed Forces and the Civil Armed Forces (CAF):
Committee Members
⦁ Additional Finance Secretary (Regulations), Chairman Finance Division.
⦁ Joint Secretary (Regulations), Finance Division. Member
⦁ FA (Regulations), Finance Division (Military). Member
⦁ Deputy Military Accountant General. Member
⦁ Additional Accountant General Pakistan Revenues Member
⦁ An Officer of the status of Deputy Secretary from Member (In Interior Division dealing with CAF matters. CAF cases)
⦁ Deputy Secretary (R-II), Finance Division Member/Secretary(Pay)
⦁ Deputy Secretary (R-III), Finance Division Member/Secretary(Pension)
2. All Ministries/Divisions/Departments are requested to identify the bona-fide cases of anomalies and refer them, with specific recommendations, to the Member/Secretary, Anomaly Committee, Finance Division, Islamabad up to 30-09-2022.
Which Anomalies?
When there is difference of pay of any employee in new pay scales and old pay scales, the employee can apply for the removal of anomaly. The anomaly may have certain condition to remove the anomaly.
Any anomaly related to revised pay scales 2022 regarding pay and allowances as well as pension
Pay Difference
Allowance Difference
Pension Difference
Previous Anomalies
Every time, the Government revise the pay scales, the Government also creates anomaly committee to resolve the issues related to pay, allowances and pension. During previous time when pay scales were revised, the Finance Division also issued a notification of removal of anomalies basic pay scales 2017. Now again the Finance Division issued the Notification for 2022 pay scales anomalies.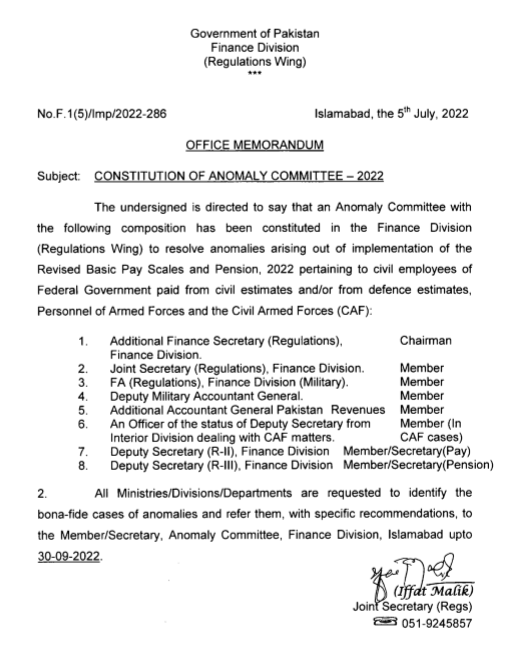 You may also like: Upgradation of Constables and ASIs in Sindh Police 2022