Last Updated on August 1, 2022 by Galaxy World
I am here sharing for the information of the pensioners and employees Pension Calculator 2022-23 KPK and Changes in Pension due to Pay Scales 2022. Finance Department Khyber Pakhtunkhawa has already issued the Notification Clarification regarding 15% Pension Increase 2022 KPK for the info of the concerned.
Pension Calculator 2022-23 KPK (Khyber Pakhtunkhawa)
The pension calculator 2022-23 Khyber Pakhtunkhawa is different from Federal Government and other provinces. In the pension calculator of Khyber Pakhtunkhawa, the increases in pension during 2011 and 2015 are not included. While the Federal and other provinces did not exclude these pension increases from the pension calculation.
How to Use Pension and Commute Calculator 2022-23 KP
You have to just enter the following three amounts/values in the while cells:
Last Drawn Basic Pay (Also include Usual Increment if any)
Age Rate
Total Length of Service (max 30 years)
Results of Commute & Pension
You will get the following results after entering the values in the calculator:
Medical Amount
Net Pension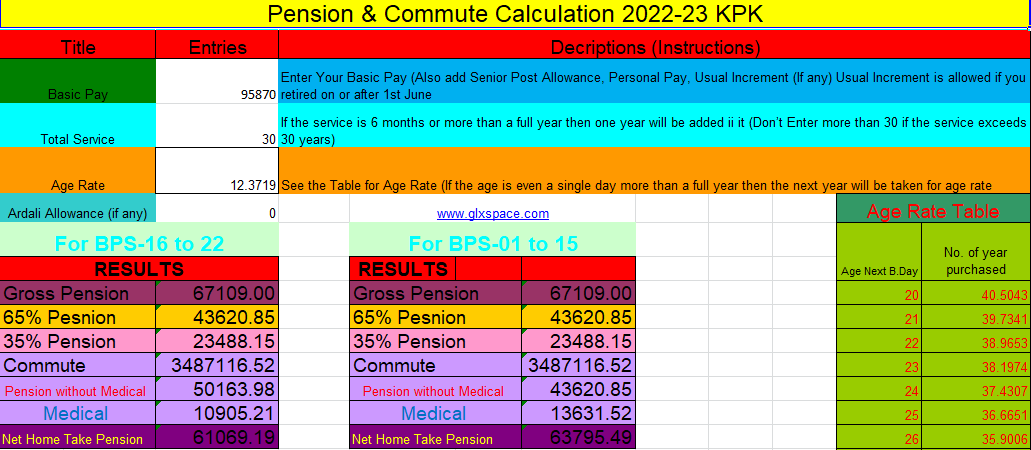 Pension Increase or Decrease with New Changes?
Let's check the pension increase or decrease with the issuance of this Notification. Let's an employee of BPS-16 who retires on 1st July 2022. We take his salary with Revised Pay Scales 2022 and Basic Pay Scales 2017. We shall calculate the pension in both ways by using the previous pension calculator KPK and New Pension Calculator KPK.
Basic Pay of the employee of BPS-16 on 30-06-2022 = 64510
New Basic Pay of the Employee of BPS-16 on 01-07-2022 = 95870
Old Calculation of Pension
BPS-16 Employee Pension (OLD)
RESULTS
Gross Pension
45157.00
65% Pension
29352.05
35% Pension
15804.95
Commute
2346447.13
Pension without Medical
59798.79
Medical
7338.01
Net Home Take Pension
67136.80
New Calculation of Pension
BPS-16 Pension (New)
RESULTS
Gross Pension
67109.00
65% Pension
43620.85
35% Pension
23488.15
Commute
3487116.52
Pension without Medical
50163.98
Medical
10905.21
Net Home Take Pension
61069.19
If we compare the pension in both ways, the new Notification is not beneficial in point of pension. However, the employee/pensioner will get more commute or gratuity. The employee has a loss of about 7,000/- per month in a pension. Federal and Punjab Governments however did not cease to exist 2011 and 2015 Pension increases.