Government of Khyber Pakhtunkhawa has issued the ad for Interest-Free Loan Scheme 2022-23 KPK Govt. Servants. The Government employees of the province of KP can avail of this loan without interest facility. This loan scheme is for the purchase of motorcars, motorcycles, bicycles and to build houses.
Interest-Free Loan Scheme 2022-23 KPK Govt Servants
The Government of Khayber Pakhtunkhawa is now providing loans to the Government Of KPK Servants for the Year 2022-23 through an Interest-Free Loans scheme. These loans are being provided to Servants in terms of purchasing the items like a motor car, house, motorcycle & bicycles.  The Government of KPK is facilitating the servants of KPK with Interest-Free loans from PKR 8000 to PKR 250,000, on very easy terms & conditions. The Government is receiving the applications and later on provides the loans to the servants selected by a draw. These loans can support the Servants of the KPK Government in terms of purchasing transport as well as building a house for them.
Terms & conditions of the Interest-Free Loan
        The government of Khyber Pakhtunkhawa is giving Interest-Free loans to the government servants of KPK in four different terms with a minimum number of conditions. The conditions for every term of the loan are different. These conditions are very easily acceptable for the applicant also. The terms and conditions of the Interest-Free loans are as given:
 Terms & conditions
Type of loan
Limit of loan
Amount of

Instalment

Number of instalments
Scale of Applicant
Age Limit
Service Period
To purchase a Motor-car

Maximum PKR 200,000

PKR 3,334

Per month

Total 60 monthly instalments

17 and Above

The maximum age limit is

55 years

At least

5 years

To Build a House
Maximum

PKR 250,000

PKR 2,080

Per month

Total 120

Monthly instalments

1-17

The maximum age limit is 55 years old

At least 10 years
To Purchase a motorcycle
Maximum PKR

80,000

PKR 1340

Per month

Total 60 monthly

Instalments

1-17
The maximum age limit is 55 years
At least 5 years
To Purchase a Cycle
Maximum

PKR 8,000

PKR 100

Per month

 Total

40 instalments

*No condition
No condition
*No condition
How can a person apply for this Interest-Free Loan provided by the Government of KPK?
One can easily submit his application to get the loan to the Deputy Commissioner of his district.
Requirements
A certificate from DDO is necessary to attach with the application.
*The loan will not be provided to the person who has already taken any loan from the government scheme.
*The applications shall be selected through a draw to provide loans
Last Date for submitting applications:
The last date to apply for the Interest-Free Loan scheme,  Government of KPK year 2022-23 is November  30, 2022.
Download the Form here:
Download Application Form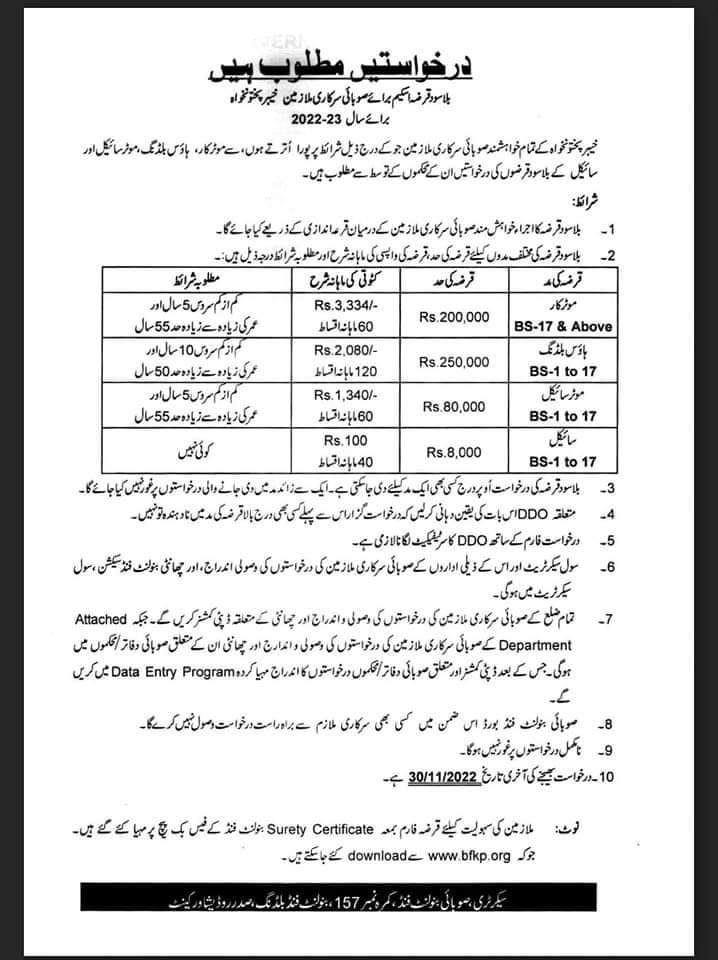 You may also like: Calculation of Motocycle Advance, Motorcar Advacnce Interest