Last Updated on December 4, 2022 by Galaxy World
College of Medical Technology (PIMS) Islamabad Opens admissions for BS Degree Program in Allied Health Sciences 4 years Program.   College of Medical Technology seeks applications from innovative,  creative, and desirous to excel in their fields.
Admissions Open for BS in Allied Health Sciences in CMT (PIMS)
Program Offered in College of Medical Technology
The following programs are being offered by CMT. Students can apply for the following programs as per their eligibility and interest:
BS Medical Laboratory Technology
BS Medical Imaging Technology
BS Operatory Technology
BS Anaesthesia Technology
BS Dental Technology
Eligibility Criteria for Admissions in BS Programmes in CMT
The Eligibility criteria have been mentioned:-
Minimum 50 % marks in F.sc (Pre-Medical Group) / (Tech-G in relevant field).
A minimum of 35 % marks scored in the entry test conducted by Zulifqar Ali Bhutto Shaheed Medical University (SZABMU (, Islamabad is mandatory for Applying to BS Programme in CMT.
Both males / Females are eligible.
The age limit is 17 -30 years.
Candidates working in the Government sector should provide NOC
A total of 125 seats are allotted for BS Degree Program in the above-mentioned disciplines.
20% of seats are reserved for F.sc Technology Group.
A domicile certificate is mandatory at the time of submission of the application. Otherwise, the application will not be accepted.
How to apply for the admissions in CMT?
Here are the steps,  which you have to follow to apply for admission to CMT.
Admission "Form" and "Catalogue" are available at the price of Rs. 1000 Administrative Officer Institute of Medical Technology (PIMS), Islamabad.
Timely completed 'Forms' will be collected from 19th December 2022 by 12:00 PM at the Medical Institute of Technology (PIMS).
Documents Required:
For You: Pakistan Academy of Letters Jobs
Documents Required
Matric Certificate, two attested copies of F.sc Certificate (Pre-Medical Technology Group).
Two (2) attested copies of CNIC issued by NADRA.
Two attested copies of CNIC of father/guardian
Two attested copies of the Identity Certificate issued by the last participating institution.
Certified at the back of 4 new/fresh passport photos with blue background.
Affidavit of judicial documents for 500 million to men. 100/- attested by a First Judge (format provided in the prospectus).
It is mandatory to have a volunteer residence.
Original transfer certificate.
Applicants are selected based on merit/interview/quota policies.
Applicants' credentials will be verified at the time of their interview at CMT, PIMS (date to be announced later), and shortlisted for the call.
If a discrepancy is found, admission will be canceled at any stage of education.
You may also like: Latest Jobs in Ministry of Defence Production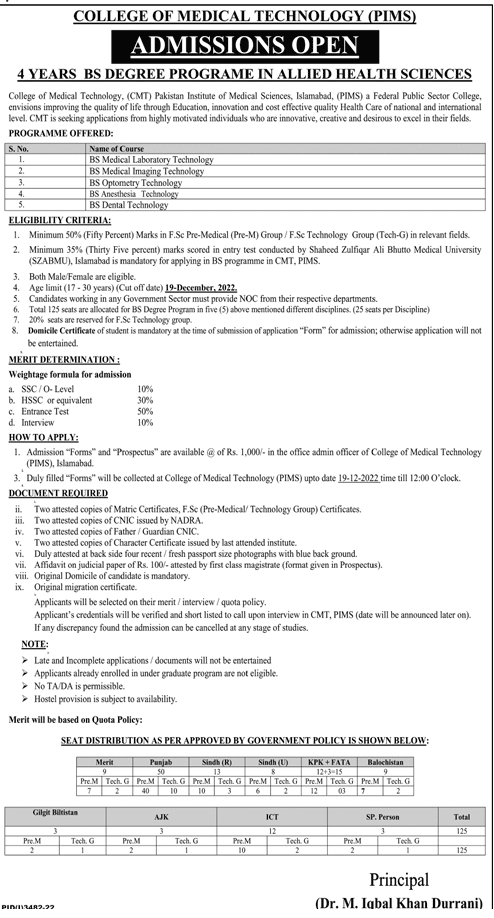 For You more: Admission Open Generic BSN 4 Years Degree