The Government of the Punjab, Directorate General Social Welfare & Bait-ul-Maal Punjab issued a Notification on 02-11-2023 in connection with Minimum Qualification for Promotion / Appointment as Junior Clerk BPS-11. The Department clarified that there is FA/F.Sc 2nd Division required for Promotion of Employees BPS-01 to BPS-08 Employees as Junior Clerk. The details are as under:
Minimum Qualification for Promotion / Appointment as Junior Clerk BPS-11
Refer to the Administrative Department Letter No. SE(E)10-96/89(voi-v) dated 19-10-2023 whereby the Administrative Department has forwarded a copy of S&GAD(Regulation Wing) letter No. SOR-III(S&GAD)2-17/2023 dated 11-09-2023 on the subject noted above. The S&GAD has clarified that the qualification i.e. "Higher Secondary School Certificate (2nd Division) will be applicable for initial recruitment (under 80% quota) as well as for promotion (under 20% Quota). To important the instructions in its letter and spirit.
You may like: Clarification Adhoc Relief Allowance 2023 Freeze or Unfreeze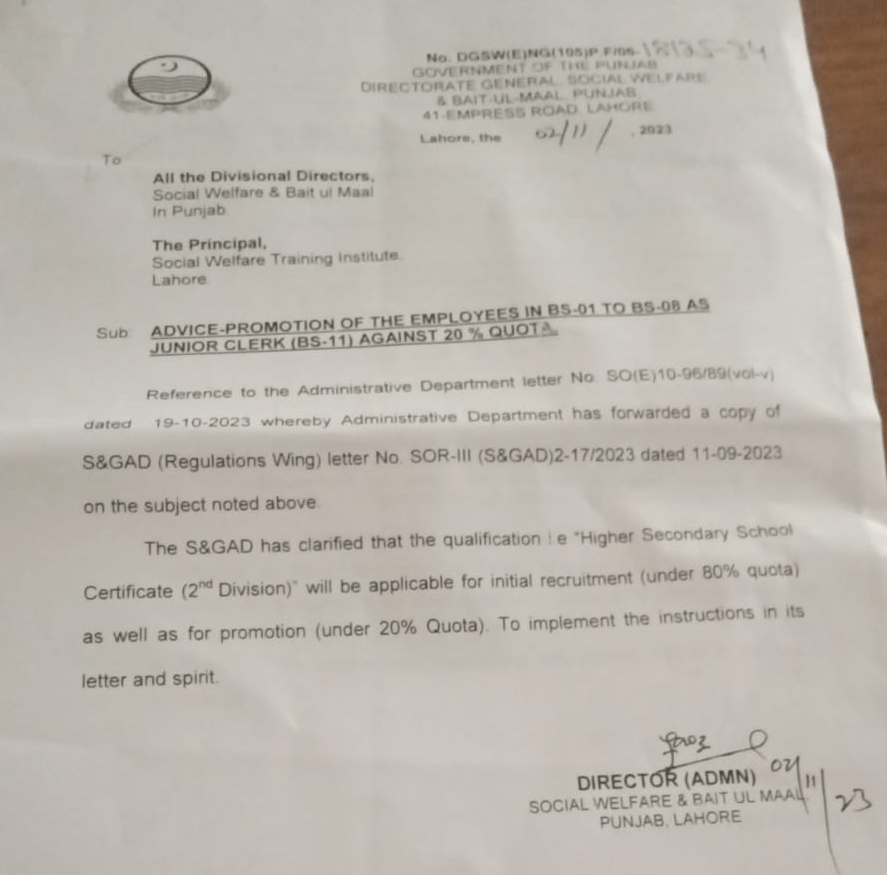 Before this the minimum qualification for promotion as Junior Clerk BPS-09 was Matirc. Now as the Government upgraded the post of Junior Clerk from BPS-09 to BPS-11 the government also enhanced the minimum qualification for this post. In the same way, the government has also enhanced the basic qualification for recruitment as Junior Clerk. The new entrants will also have a minimum FA/F.Sc or equivalent qualification for appointment as Junior Clerk BPS-11.