Last Updated on October 31, 2021 by ShumailaKamalBHP
School Education Department Punjab has issued the Transfer Policy 2013 vide Notification No. SO (SE-IV) 2-34/2009 (Transfer) dated 17th April 2013. This policy will be effective forthwith and shall be in supersession of previous posting/transfer policy of the Education Department (Schools), 2000.
The overriding principle of placement is that the teachers, officers and officials can be placed anywhere in Tehsil, District and Province according to their cadre. No one can claim any particular post or station as a right for posting whether it is filled by initial recruitment or through in-service promotion by the Department or District. There will be a post specific merit based criteria for every vacant seat.
The post-specific criterion for posting /transfer is as under:
| | | |
| --- | --- | --- |
| 1 | Academic Results | 40 Marks |
| 2 | Service in far flung area | 20 Marks |
| 3 | Seniority | 10 Marks |
| 4 | Wedlock basis | 15 Marks |
| 5 | Compassionate Grounds | 15 Marks |
There would be no ban on transfers required to be made on the following grounds:
1-      Teachers, Officers and Officials who return from study leave, deputation, get in-service promotion and demotion would as far as possible be posted in the district from where they proceeded on study leave/in-service promotion/demotion or against any other available post of the same status.
2-      On rectification of erratic posting or adjustment of erratically posted person according to matching post.
3-      Empowerment of Head Teacher:
a-      The Head Teacher of Elementary/ Secondary/Higher Secondary School is authorized to surrender any of teaching or non teaching staff members on their unsatisfactory performance or conduct to the respective transferring authority.
b-      The Head Teacher while exercising the powers shall serve notice to the staff members and give them personal hearing before issuing the orders regarding surrender of their services.
c-      No Head Teacher will surrender the services of more than three staff members at a time.
d-     The officer holding additional charge may also exercise this power provided said officer is not less than Secondary School Teacher in case of Elementary or High School and not less than Subject Specialist in case of HigherSecondary School.
e-      Transferring authority shall adjust the surrendered incumbent in some other school. The Head Teacher cannot re-view his order nor can reviewing authority compel him to take him back.
The ministerial staff such as Junior Clerks/ Senior Clerks/ Assistants/ Stenographers/ Superintendents/ Extra Assistant Directors, etc, will have three years tenure at one office/station. The Junior Clerks working in offices and urban girl's schools will be shifted in rural boy's schools, whereas junior clerks working in rural girl's school will be shifted in boy's schools. You can read more details about this policy on the notification.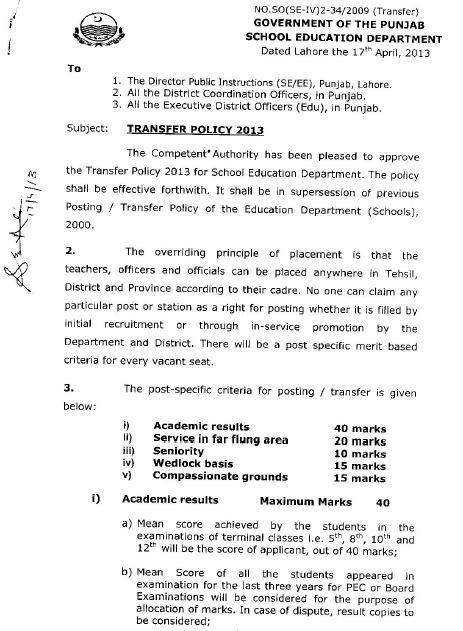 Download Transfer Policy 2013 Punjab