Last Updated on October 31, 2021 by ShumailaKamalBHP
Govt of the Punjab School Education Department has already issued Notification No. SO (SE-III) Misc/09 (Study Leave) dated 11th December 2009 in connection with the Study Leave for the Punjab Govt School Teachers. Later on there has been made amendment in study leave vide Notification No. SO (SE-III)Misc/09/Study Leave) dated 21st October 2013.
The purpose of study leave is to provide an opportunity to the teachers to make them professional and skill in their school subject whereas it has been observed that a number of cases during the year have been received where teachers like PST and EST (all categories) have got admission in M.Sc /Diploma in Health & Physical Education which is irrelevant to their job/assignments. This sort of practice is contrary to the Study Leave Rules/Policy which is as under:
a-      Study Leave may be granted as additional leave to Government Servants for the study of scientific, technical or similar problems or in order to undertake special course of instructions.
b-      Study Leave should be granted with due regard to the exigencies of the public service.
It has been noticed that Government Universities/Institutions are being ignored and private (affiliated) universities/institutions located out of province are being selected for study by the teachers.
The competent authority has taken a serious notice of the above said situation and has been pleased to direct as under:
i-                    The admission in universities/institutions out of province will not be allowed if such facilities are available in the province.
ii-                  No departmental permission should be granted other than the school subject particularly in professional training course.
iii-                The admission in the campus constituted by the various universities in various cities as Distance Learning Centers may not be allowed.
iv-                Departmental Permission in each case may invariably be sought well before the submission of the admission form to the University/College otherwise study leave will not be sanctioned.
v-                  The permission case will only be forwarded by the concerned appointing/controlling authorities in shape of a letter with Number & Date and copy to the study leave sanctioned authority.
vi-                Prior to sanction of any kind of leave by the competent authority, the teacher will not be relieved from station.
vii-              In case of any violence of these instructions, the officer forwarding the study leave case will personally be responsible for the consequences.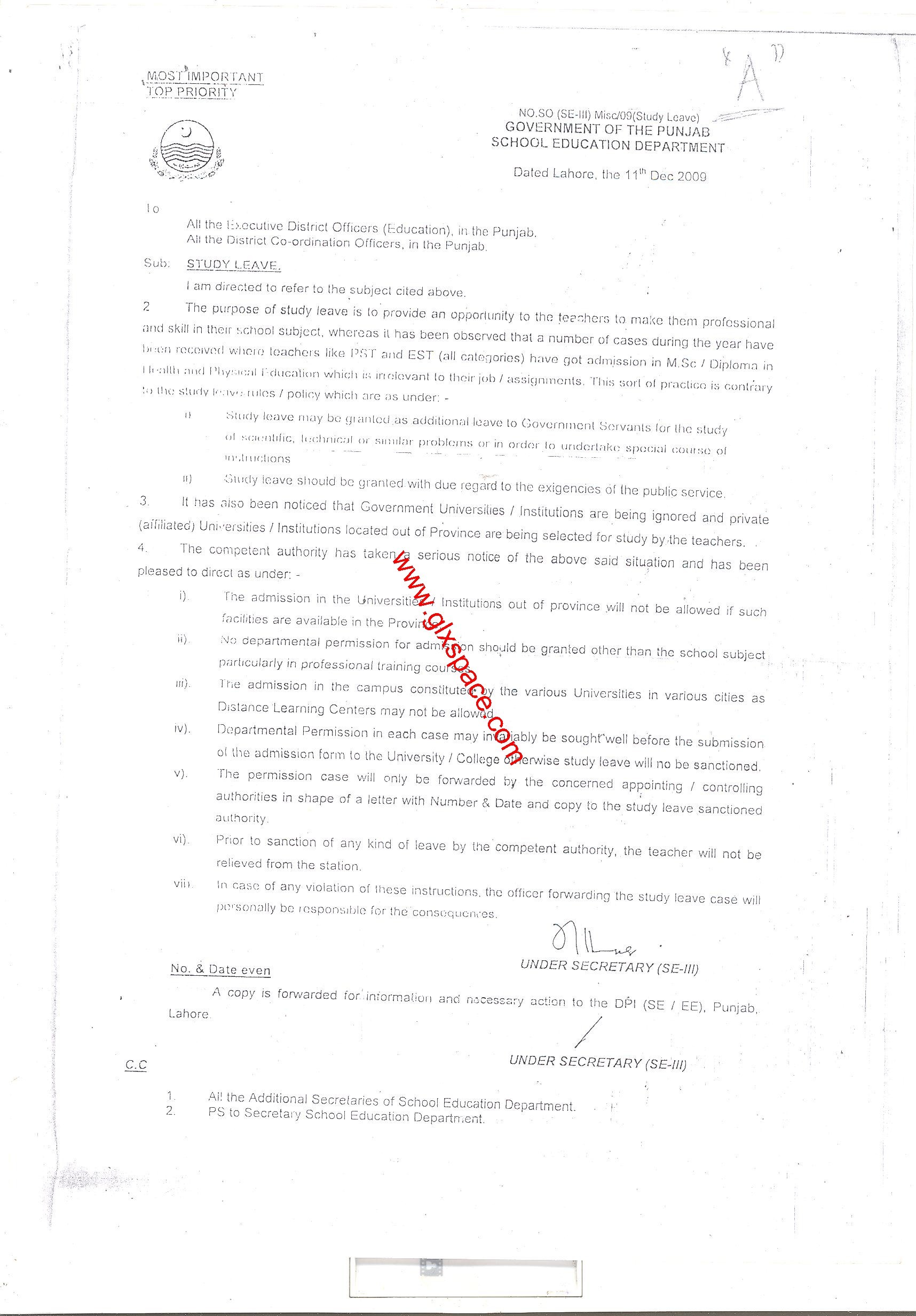 This post has been deliverd by Mr. Saif Ur Rehman, GHS, Pattoki.