Federal Public Service Commission has issued Notification on 16-06-2019 in connection with Schedule of Competitive Examination CSS 2020. Detail is as under:
FPSC will hold CSS Examination 2020 (Competitive Exam 2020) for the recruitment of the posts of BPS-17 in different Occupational Groups / Services of the Federal Government of Pakistan. Schedule of the same is as under:
| | | |
| --- | --- | --- |
| S.No | Event / Activity | Date of activity / event  |
| 1 | Advertisement for receiving applications | 29-09-2019 |
| 2 | Online receipt of applications | 01-10-2019 to 31-10-2019 |
| 3 | Last date of receipt of hard copies of online application form alongwith all the necessary documents | 11-11-2019 |
| 4 | Cut-off date to determine criteria for eligibility | 31-12-2019 |
| 5 | Commencement of the CSS Examination 2020 | 12-02-2019 |
Complete detail of Syllabus for CSS Competitive Examination 2020, Conditions for eligibility, criteria and academic qualification are available at the website of Federal Public Service Commission. So the willing candidates to appear in the CSS Exam 2020 be ready for the online applications, test for the exam and interview and hence for the selection in the posts of BPS-17. It is also notable that all the new comers in the field of Government Department just anxious to know "How much Salary they will get after their selection in Govt Field". They don't need to worry. I have prepared a full detail of the Salary of newly appointed employee in 2019-20. This chart is in full detail with Basic Pay Scale 01 to BPS-20 salary chart. All the detail of Pay and Allowances for the Government departments has been mentioned in detail. I hope you will really like this my effort.
Who Are Eligible for CSS Exam 2020
Male and Female
Special Persons
Atleast 2nd Division Bachelor's Degree
Age Range 21 years to 3o years as on 31-12-2019 (Age relaxation can be granted under the rules)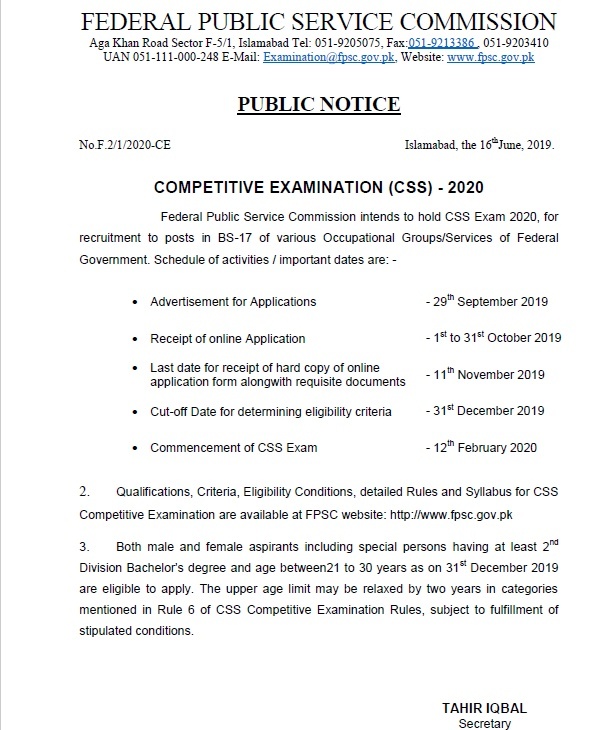 You may also like: Combined Competitive Exam 2020 (CCE-2020) through Sindh Public Service Commission.