Last Updated on May 18, 2020 by Galaxy World
I shall share here the details of Insaf Rozgaar Scheme Interest Free Loans to Eliminate Unemployment for the newly merged Districts & Frontier Regions of Khyber Pakhtunkhwa. Applications are invited on the basis of 1st come and 1st get. Detail of the loan is as under:
Eligibility for Insaf Rozgaar Scheme Interest Free Loans
The applicant must be the resident of the newly merged districts or frontier regions of the Khyber Pakhtunkhwa province.
The age limit for the loan applicant must be between 18 years to 50 years.
The applicant must be the resident of the current place of residence minimum 2 years. (TDPs are exempted from this condition).
All the unemployed persons or the persons who want to extend their business can apply (The educated or skilled persons will be given preferred).
The applicant must not be an employee of Government or semi-Government department. In the same way a student (in continuous of his / her study) cannot apply for this interest free loan scheme.(Khyber Pakhtunkhwa Government Employees have their own interest free loan scheme for KPK Employees).
The applicant must not be the defaulter of any department or bank and also not have been involved in debt (Maqrooz) of any bank or department.
Applicant has not earlier got the loan / amount under any Government scheme.
The applications received earlier will be preferred.
Amount of Loan
The range of loan amount is starting from Rs. 50,000/- (Fifty Thousands) to Rs. 1000,000/- (ten lacs) depending upon the nature of work. The borrower will return this amount in 3 years with 3 month grace period.
Application Form for Loan and other details
You can download the application forms and other details here.
Last date for the application
Last date to apply for these loans is 30-09-2019. Willing persons can apply for these interest free loans before the closing date.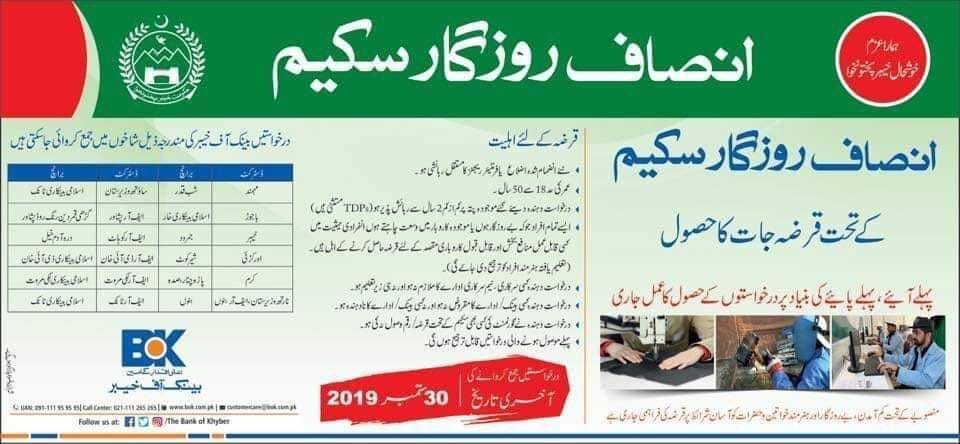 You may also like: National Bank of Pakistan Advance Salary Loan Calculator