Last Updated on November 8, 2019 by Galaxy World
Government of the Punjab, School Education Department has issued letter on 02-11-2019 in connection with Recruitment of Class IV Employees and Junior Clerks (JC) against 35 quota for Special / Disable persons.
I am further directed to request you to advertise all left over vacant posts of Class-IV and Junior Clerk under 3% Disable Quota on urgent basis & provide copies of advertisement with 10 days.
Keeping in view the above it can be said the vacancies of Class Four Employees and and Junior Clerks will be advertised during the 2nd week of November 2019. These jobs will be only for the special persons. You can see that the letter has been submitted to all the Chief Executive Officers, DEAs, Punjab. So keep ready for the coming soon jobs of lower grade employees and clerks.
Special thanks to Mr. Qadeer Ahmad for sending the copy of the Recruitment of Class IV Employees and Junior Clerk Against 3% disable Quota.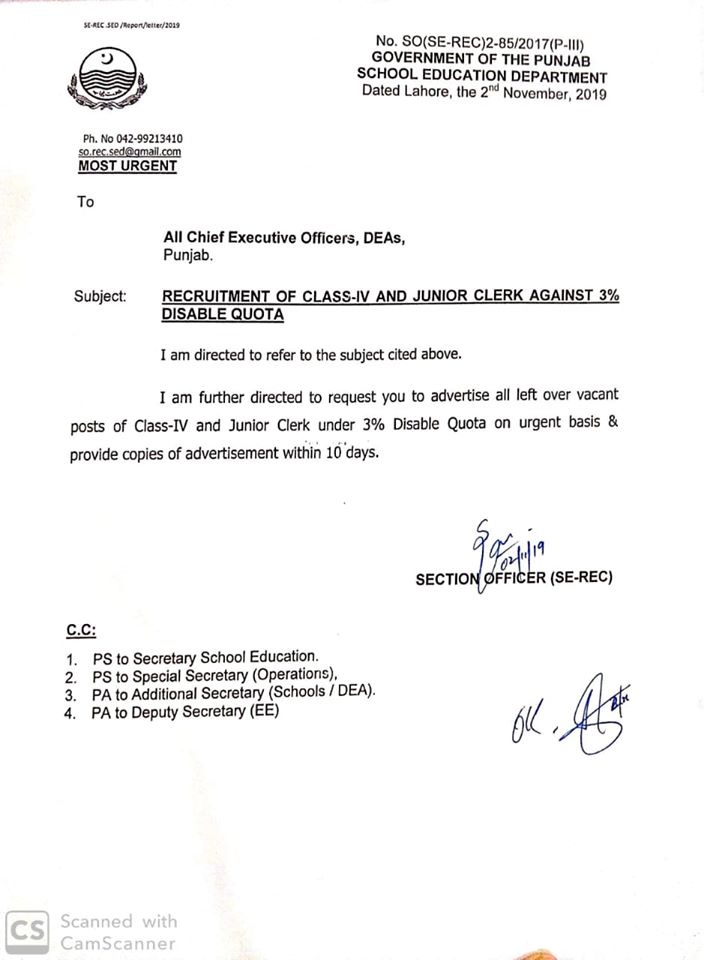 For You More Opportunities: Jobs in Federal Insurance Mohtasib Secretariat