Last Updated on December 6, 2019 by Galaxy World
Jamshoro Power Company Limited has issued Notification on 25-11-2019 in connection with Time Scale Upgradation TGTs from BPS-16 to BPS-17 JPCL (GENCO-I) Jamshoro. Detail of TSU of Trained Graduate Teachers is as under:
The approval of competent is hereby conveyed for the grant of One (01) Step Time Scale up-Gradation from BPS-16 to BPS-17 in favour of following Trained Graduate Teachers of JPCL (GENCO-I) Jamshoro from the dates & place of posting mentioned against each, whose pay scale were revised or they were allowed Selection Grade or TSU 20 years before or more and they have ever since been working in the same pay scale.
| | | | | | |
| --- | --- | --- | --- | --- | --- |
| S.No.      | Name | Father`s Name | Designation | Plate of Posting | Data of Admissibility |
| 01. | Ms. Shahida Jafri | Syed Shoukat Ali Jafri | T.G.T | Wapda High School VPS Jamshoro | 27-10-2016 |
| 02. | Ms. Shabana Yasmin | Abdul Rasheed Khan | T.G.T | Wapda High School GTPS Kotri | 27-10-2015 |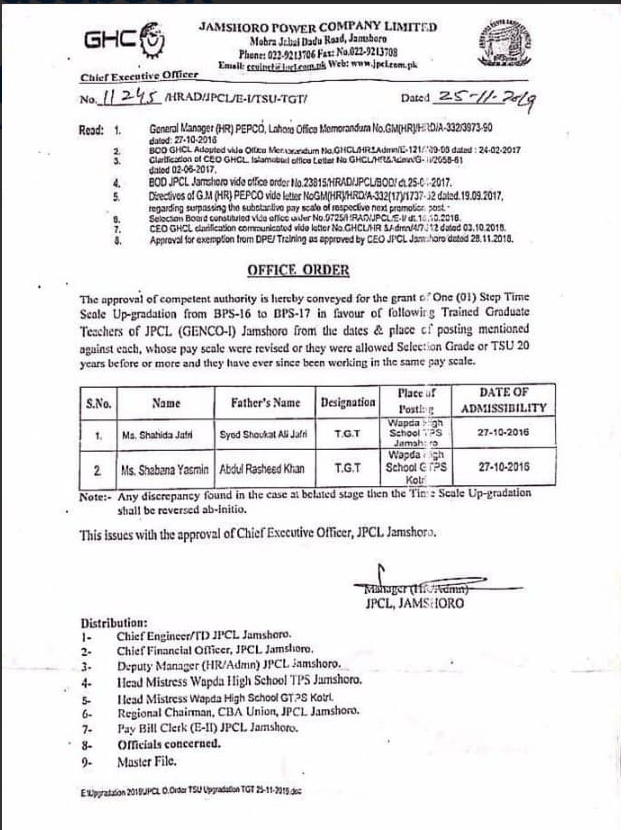 Note:- Any Discrepancy Found in the case at belated stage then the Time Scale Up-gradation shall be reversed ab-Initio.
This issues with the approval of Chief Executive Officer, JPCL Jamshoro. Special thanks to Mr. Mehfooz Ahmed Khan for sending the copy of the TSU of TGTs from BPS-16 to BPS-17 JPCL. The department has sent the copy of the same to concerned.