Last Updated on December 11, 2019 by Galaxy World
Various Resolutions moved on 10-12-2010 in National Assembly of Pakistan. There were two resolutions related to the Government Employees. One was to Increase basic salaries of the Government Employees and the other one related to the pensioners to equalize the pension to Basic Pay. Detail is as under:
Resolution Move from House to Increase Basic Salaries
This resolution relates to the in service Government Employees. This resolution was moved by MS. Shamim Ara Panhwar. She moved "The House is of the opinion that the Government should take immediately increase the basic salaries of the Federal Government employees in proportion to price-hike"
MS. Shamim Ara Panhwar really depicted the picture of the actual position of the employee. She knows well what the issues are facing the Government employees due the increase in the prices of the daily use items. She knows well that the Government Employees are living hands to mouth. According to her , salaries of the Government employees are very less as compared to their expenses. During 2019-20 Government granted only 10% Adhoc Relief Allowance 2019. Government should take immediate action to increase the salaries of the Government employees. Government should increase immediately before waiting the budget 2020-21.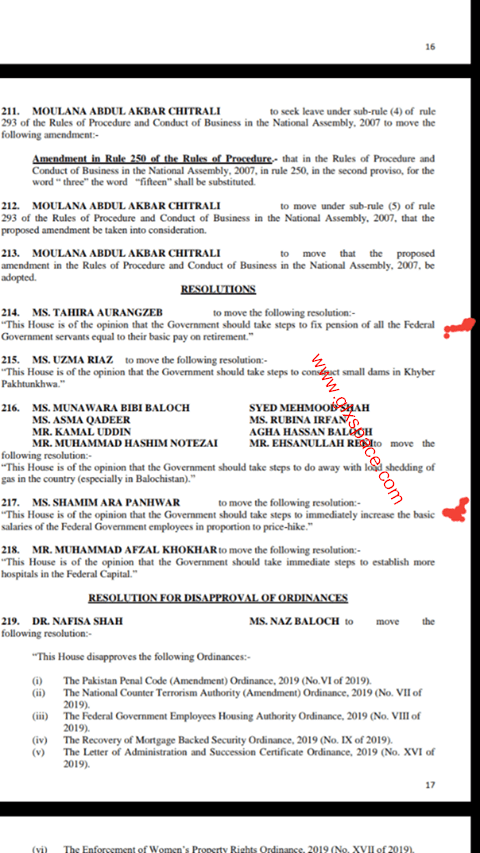 Resolution Equalizing Pension to Basic Pay on Retirement
MS. Tahira Aurangeb member of National Assembly moved the resolution related to pension. According to her, the House is of the opinion that the Government should take steps to fix of all the federal Government servants equal to their basic pay on retirement.
Tahira Aurangzeb is aware of the financial issues of the pensioners. She wants that the pension of the retiring Government employees should be minimum equal to Basic Pay. Government increased pension in 2019 @ 10% for the pensioners.
There was a time when the pension was nearly equal to the basic pay and with the introduction of revised pay scales 2017 and 2015 & 2016 basic pay scales there were made changes. Government discontinued various pension increases during these years.
From the above discussion, it is clear that the prices of the daily use items are at their peak and it is very difficult to live with the salary the employees getting and the pension the pensioners receiving. Both the ladies are deserved for salute if they achieve their goal.
Special thanks to Mr. Waqar Ahamd for sending the copy of the NA Resolution Move to Increase Basic Salaries and Equalize Pension to Basic Pay.
Your Turn
Now it is your turn, what you say about the increase in salary of the employees. You can mention in the comments if there is need in increase pay or not.