Last Updated on April 3, 2020 by Galaxy World
The government of Punjab is being launching Taleem Ghar Punjab Govt Online Teaching Program for the students for the classes of one to eight. Due to the prevailing situation of coronavirus in the country and worldwide, it is difficult for the school children to got to schools to learn. In this situation academies and home tuition for the students is also risky. Keeping in view the above situation, the Punjab Government has decided to teach the children online via the following three methods:
Taleem Ghar Punjab Govt Online Teaching Program
Taleem Ghar Cable Channel
Website Taleem Ghar
Mobile App for Taleem Ghar
Online video lectures for the classes 1st to 8th are according to the mental capacities of the students. Animated teachers will provide lectures through videos from every Monday to Thursday.
Initially, Lectures/tutorials for the subjects of General Knowledge, Science and Mathematics are available with effect from 1st April 2020. Lectures timings are from 9 am daily to 1 pm daily.
The program is supported by:
School Education Department Punjab (SED Punjab)
PMIU
PITB
Message:
Har Ghar Banay Ga School (Every Home Will Become School)
Students should get the benefits of these online teaching classes. Parents should also engage their children to learn online and benefit from these lectures. These lectures are available now at the concerned platforms. No one knows the exact date of the better situation of this coronavirus. May Allah do best. Aamin!
Watch online lectures below: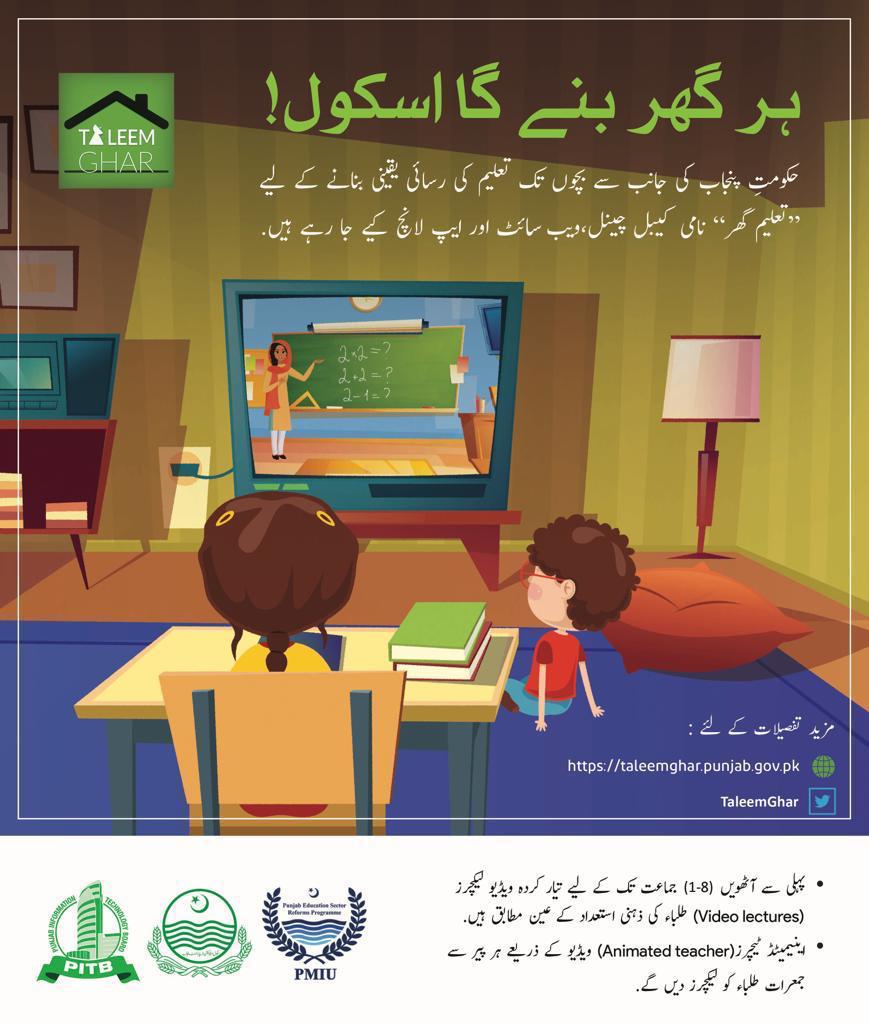 Punjab's first educational cable TV transmission, TaleemGhar is being aired in all districts. Students are able to watch educational videos on General Knowledge and Science with animated teachers, Mr. Newton, Miss Arfa and Miss Curie. The TV Cable Channels are now broadcasting online Education Lectures from 9 am to 2 pm daily. Government of Punjab as also launched a youtube channel for online lectures. Students can also get online education from its channel as below:
You May Also Like: E-Rozgar Admission Information