Last Updated on October 30, 2021 by Galaxy World
Finance Department Khyber Pakhtunkhwa has issued Notification on 11-05-2020 in connection with Advance Salary on 20th May 2020 KPK Employees. The detail of disbursement for may 2020 salary on advance for KPK employees is as under:
Advance Salary on 20th May 2020 KPK Employees
I am directed to invite your Attention to Note-4 o Rule 217 of the Federal Treasury rules (Vol-1), which provides that if Eid-ul-Fitr, Eid-ul-Azha, Diwali and Christmas, etc falls within the last ten days of the Month, the salary of that month is required to be disbursed in advance to the Government Servants and Pensioners five days before the date of the festival.
As the Festival of Eid-ul-Fitr is likely to fall on 24th or 25th May 2020, it may, therefore, be ensured that arrangements may please be made to disburse the salaries/pensions for the month of May 2020 to all Government Servants/Pensioners of the Provincial Govt: Khyber Pakhtunkhwa, in advance on 20-05-2020. Finance Department Khyber Pakhtunkhwa has submitted this official letter copies to all the concerned offices and departments.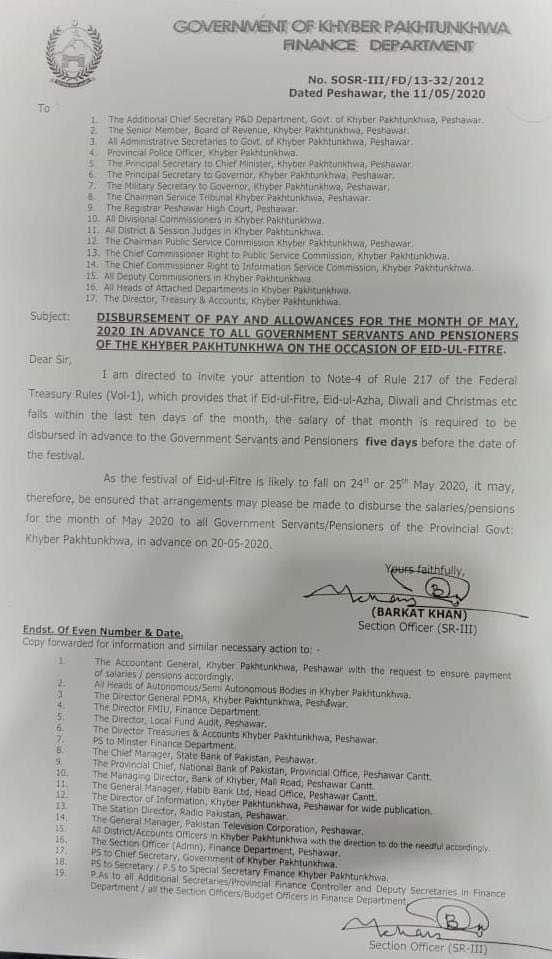 Salary of Other Provinces and Federal
Before this, the following Governments have issued Notifications for advance pay and allowances and pension.
Federal Government
Punjab Government
Sindh Government
Balochistan Government
Punjab and Sindh Governments employees will get a salary on 18th May 2020 while Balochistan and Federal Govt Employees will get on 21st May 2020. Now according to this Notification KPK employees and Pensioners will get pay and pension on 20-05-2020.
You may also like: Disbursement of Full Pay and Pension Sindh May 2020
Special thanks: Mr. Ibrar Shah