Last Updated on May 26, 2020 by Galaxy World
Pakistan Post, Office of the Director General Pakistan Post Islamabad has issued Notification on 21-05-2020 in connection with Revision Tariff Urgent Mail Services (UMS). The details of this Notification are as under:
Revision Tariff Urgent Mail Services (UMS)
In pursuance of the approval accorded by the Pakistan Postal Services Management Board in its 46th meeting held on 9th March 2020 under the provision of Section 16 (3) of P.P.S.M.B Ordinance, 2002, I am directed to notify the revised tariff (fee) of Urgent Mail Services (Local City-to-City) for walk-in customers. The following fee will be charged with effect from 1st June 2020:-
Type of Service
Rate of fee for weight up to 250 gm
The Rate of fee for weight up to 500 gm
Rate of fee for every additional 500 gm
UMS(Local)
Rs.51

(48+3)

Rs.64

(61+3)

Rs.26

(23+3)

UMS(City to City)
Rs.86

(83+3)

Rs.132

(129+3)

Rs.43

(40+3)

UMS Proof of delivery

(POD / AD)

POD to be replaced with AD @ Rs.30 for local and Rs.50 for City to City
The amount of incentive of Rs.3/- per article will be credited under Head of Account G-07106-68-Incentive on Pick Up Service of Express Articles. The distribution plan of incentive will be communicated separately.
The supersedes the tariff notified vide this office letter No.EP.1-31/2007 dated 14-03-2008 and 17-03-2008.
All concerned are directed to note and act accordingly and also acknowledge the receipt of this communication.
 Special thanks to Syed Faizan Ali Shah who sent a copy of the Notification of Revision Tariff for UMS.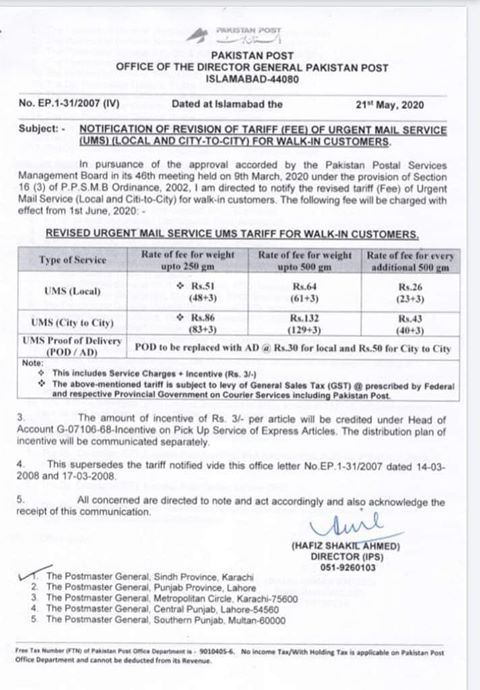 You may also like: Revision Inland Postal Mail Tariff Fee