Government of Pakistan, Cabinet Secretariat Establishment Division has issued Notification on 29-05-2020 in connection with Office Timings Federal Government Offices till 15th June 2020. The details of the notification is as under:
Office Timings Federal Government
No.6/1/2007-D-2: As a part of the measures to contain spread of Corona Virus (COVID-19), the Federal Govt offices shall observe the following office timings:
Mondays to Thursdays (10:00 am to 4:00 pm)
Fridays (10:00 am to 1:00pm)
The above timings shall come into force with immediate effect and shall continue till Monday, 15th June 2020 (Date included), unless modified or withdrawn earlier.
Copy Forwarded to
President's Secretariat (Personal/Public) DS (Admn) Aiwan-e-Sadr, Islamabad.
Prime Minister's Secretariat (Internal/public), DS (Admn), Islamabad.
The chief Election Commissioner of Pakistan, Islamabad.
The Auditor General of Pakistan, Islamabad.
The AGPR, Islamabad.
All Federal Ministeries / Divisions.
The Registrar, Supreme Court of Pakistan, Islamabad.
Secretary, Senate Secretariat, Islamabad.
Secretary, National Assembly Secretariat, Islamabad.
Chief Secretaries, Government of the Punjab/Lahore, Sindh/Karachi, Khyber Pakhtunkhwa/Peshawar, Balochistan/Quetta, Gilgit-Baltistan/Gilgit and AJK/Muzaffarabad.
Special thanks: Mr. Ghulam Yaseen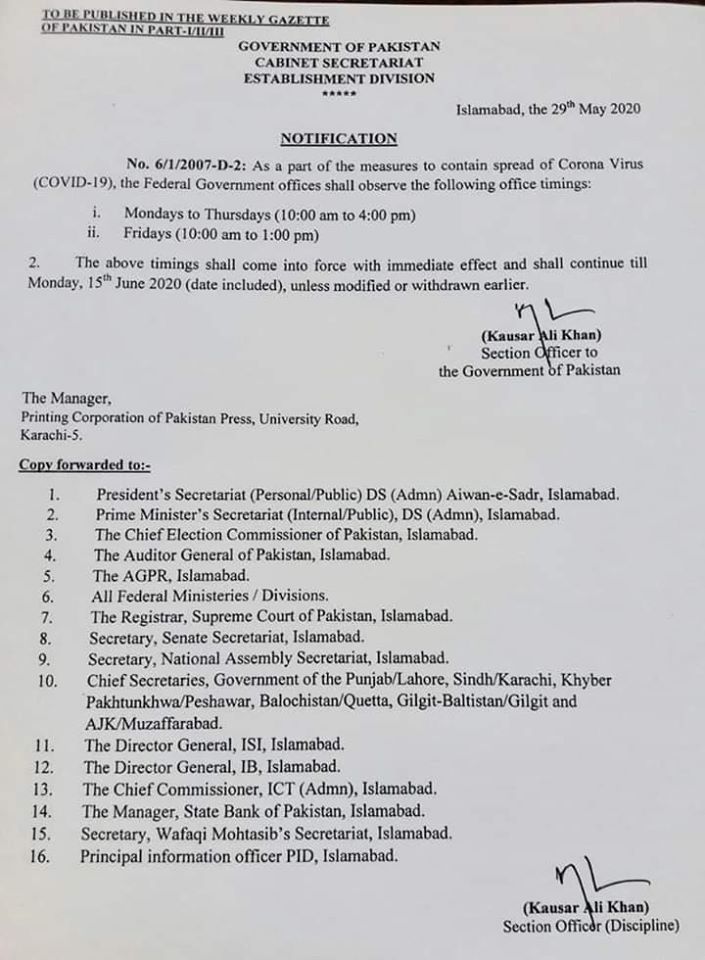 It is to inform the concerned that the Federal Government earlier changed office timings during the Holy Month of Ramzan 2020. The main reason for these new office timings is that one the Holy Month of Ramzan has gone now. But the situation of the COVID-19 is still there. So the Office timings the Government fixed from 10 am to 4 pm (Monday to Thursday) and 10 to 01 pm on Friday.