Last Updated on August 6, 2021 by Galaxy World
Federal Education Minister, Mr. Shafqat  Mahmood has tweeted for Restoration of Saturday Holiday in Educational Institutions. This decision will be implemented with effect from 01-03-2021. The details are as under:
Restoration of Saturday Holiday in Educational Institutions
Important announcement of the Federal Minister of Education.
From March 1, all schools in the country will return to normal 5-day classes. Due to the corona, the ban on teaching classes in small groups in schools in some major cities is set to expire on February 28.
Federal Minister of Education
This announcement applies to every educational institution in the designated cities where restrictions had been imposed. Allah SWTs infinite mercy that we are returning to normal.
It is further clarified all educational institutions will continue to observe normal corona SOPs such as physical distancing, mask-wearing, and ensuring handwashing facilities.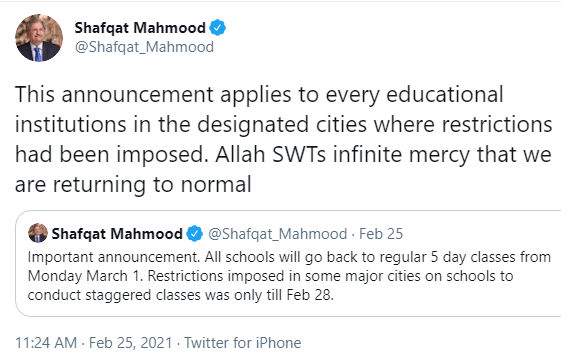 You may also like: Clarification by Finance Division DRA-2021 @ 25%
Only Federal Educational Institutions were already observing Saturday / Sunday Holidays. Punjab and other provinces had already stopped the Saturday Holidays for schools and colleges. Due to COVID-19 the Edu Institutions closed the schools/colleges. To cover the syllabus, the Federal Government decided to open Saturday for education institutions. Now again the Federal Government Decided to keep off the Saturday. MOstly the educational institutions made groups of the students. One group attended the classes one day and the other the next day. Now the students will have to come 5 days instead of three days a week. But teachers attended 6 days a week earlier. The staff will have one day more holiday.
Notification of Observing Saturday Off
               This is as yet just a tweet by the Federal Education Minister. Federal Government has not yet issued the Notification of the same. As soon as I get the Notification, I shall share the information. The Notification, we can expect very soon. So keep tuned with me for the Notification. After the issuance of the Notification, the schools/colleges will again open five days a week.