Last Updated on August 6, 2021 by Galaxy World
Government of Pakistan, Finance Division (Regulation Wing) has issued a letter on 26-02-2021 in connection with the Up-gradation of Posts from BPS-01 to BPS-16. The details are as under:
Letter Regarding Up-gradation of Posts from BPS-01 to BPS-16
The undersigned is directed to refer to the above subject and state that Ministerial Committee comprising Minister for Defence, Interior, and Parliamentary Affairs was constituted on the direction of the Prime Minister to deal with all issues of protesting Government employees of the Federal Government. The representatives of the Establishment Division and Finance Division also participated in the deliberations of the Ministerial Committee.
                The request of protesting employees inter alia included up-gradation of posts in BPS-01 to BPS-16 on the analogy of Khyber Pakhtunkhwa. The above-referred committee agreed to the request of protesting government employees and this commitment of the committee was submitted for the information of the Cabinet.
                The existing policy of up-gradation / re-designation of posts has been issued by Establishment Division vide O.M No. 8/36/2000-R.1 dated 20th January 2001. In the said policy Establishment Division has to examine the proposal from the administrative/technical feasibility and subsequently by Finance Division from a financial point of view.
                In view of the above, the Establishment Division is requested to take necessary action in the matter.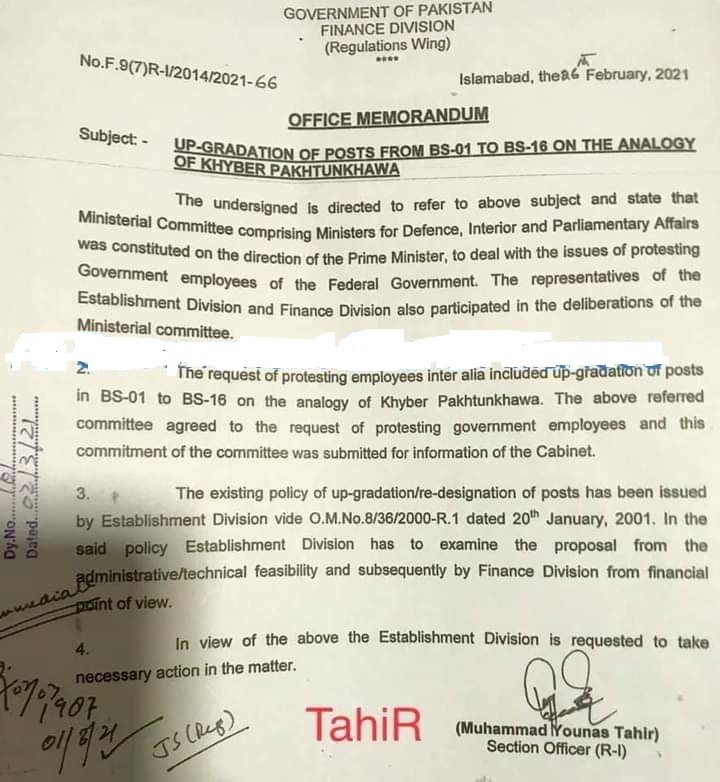 You may also like: Get 50% Advance Salary every month