Last Updated on August 6, 2021 by Galaxy World
Government of Gilgit-Baltistan Office of the Deputy Commissioner District Magistrate Gilgit has issued a Notification on 09-03-2021 in connection with 4 Local / Optional Holidays in March 2021 in Gilgit. The details of these Local Holidays are as under:
Local / Optional Holidays in March 2021 in Gilgit District
In pursuance of Notification No. PR-19(7)/59 dated 30th December 1966, read with Section 25 of Negotiable Instruments Act, 1881 and circular bearing No. SO(C)-I(14)/2019 dated 30 December 2020 issued by S&GAD Gilgit Baltistan. I Naveed Ahmed Deputy Commissioner / District Magistrate, Gilgit do hereby declare the following local/optional holidays in District Gilgit on account of the occasion mentioned against each.
Schedule of Holiday
Sr. No
Date / Day
Islamic Date
Occasion
1
12th March 2021 (Friday)
27th Rajab 1442 A.H
Shab-e-Mairaj (Optional Holiday)
2
17th March 2021 (Wednesday)
3rd Shaban 1442 A.H
Birth Day of Hazrat Imam Hussain (A.S) (Local Holiday)
3
21st March 2021 (Sunday)
7th  Shaban 1442 A.H
Eid Nouroz (Local Holiday)
4
29th March 2021 (Monday)
15th Shaban 1442 A.H
Birthday of Hazrat Imam Mehdi (A.S) (Local Holiday)

Shab-e-Barat (Optional Holiday)
Special thanks to Mr. Ibrahim Mhd for sending the copy of the Notification of Local/Optional Holidays in Gilgit District during the month of Mar 2021.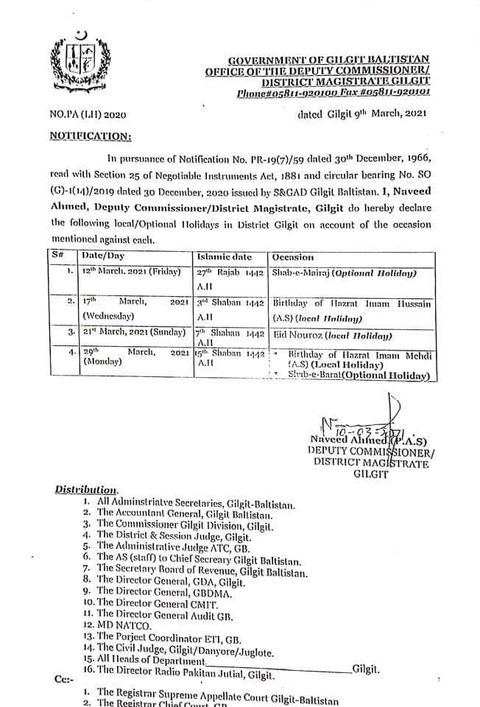 You may also like: Important News 2021 for Family Pensioners