Last Updated on August 6, 2021 by Galaxy World
Government of the Punjab, School Education Department has issued a Notification on 23-04-2021 in connection with Once Again Closing of Schools in Punjab. The details are as under:
Closing of Schools in Punjab Till Further Orders
In continuation of this department's Notification of even number dated 6th April 2021, in addition to the closure of schools in 13 Districts, all Public and Private Schools in the following districts are closed:
Okara
Jhang
Khanewal
Bhakkar
The schools in the above districts, the Punjab Govt has decided to close for all classes till further orders.
All the rest of the district's education authorities shall continue to operate as usual subject to observance of SOPs in this regard.
All Public and Private Schools in 4 Districts, i.e, Okara, Jhang, Khanewal, and Bhakkar are closed with immediate effect due to the rise in COVID 19 cases.
These Districts are in addition to the 13 Districts announced on April 6th, 2021.
At this moment only Punjab Government issued the Notification for extension of Holidays. Federal Government, Sindh, KP, Punjab, and Balochistan Governments did not yet issue the Notifications for extension of vacations for schools. They will also issue the Notifications very soon as per the instructions of NCOC.
According to news, other Government will also issue the orders for districts with 5% or more COVID-19 cases.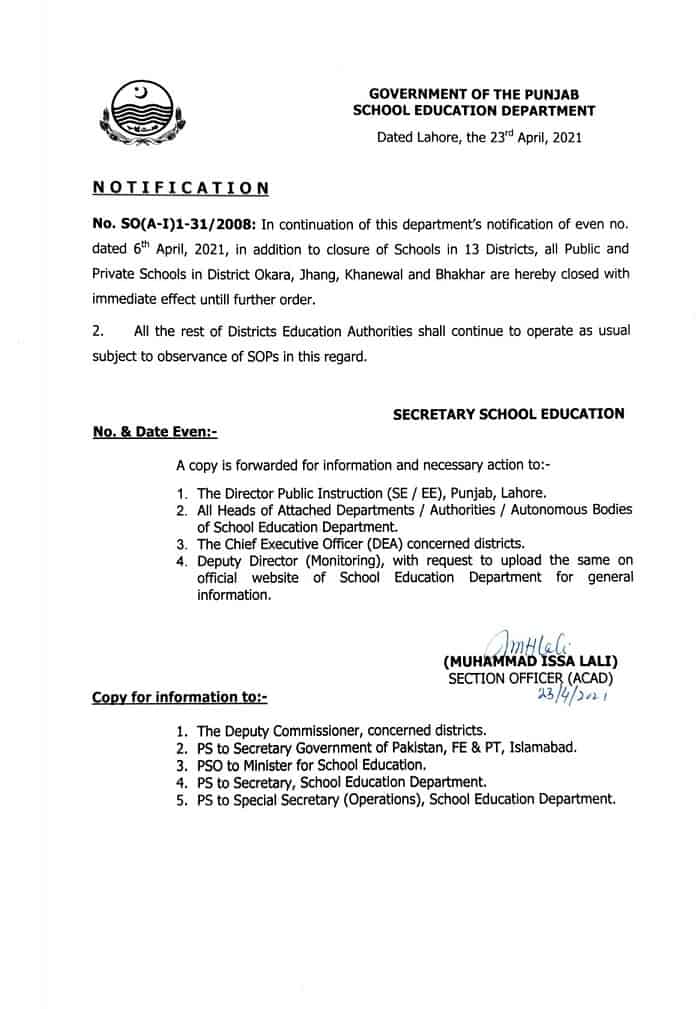 You may also like: PPSC Jobs advertisement No. 08/2021