Last Updated on August 6, 2021 by Galaxy World
Government of Khyber Pakhtunkhwa, Higher Education, Archives & Libraries Department has issued a Notification on 21-05-2021 in connection with Extension Closure of Educational Institutions till 7th June 2021. The details are as under:
Extension Closure of Educational Institutions till 7th June 2021
In pursuance of decisions made in NCOC meeting dated 19.05.2021 and per instructions issued by the Home & Tribal Affairs Department Khyber Pakhtunkhwa vide its Notification No. SAW/HED/COVID-19/20/33 dated 20.05.2021, the Competent Authority is pleased to extend the closure of all Public and Private Sector Universities/DAIs/College in District Peshawar, Nowshera, Charsadda, Mardan, Swabi, Dir (Upper & Lower), Bajaur, Buner, Malakand, Swat, Shangla, Abbottabad, Mansehra, Torghar, Haripur, Battagram, Orakzai, Kohat, Kurram, Bannu, North Waziristan, and D.I.Khan till 07.06.20021, having Covid positively 5% and above. However, the online mode of education the educational institutions will continue as per practice in vogue.
Educational activities in the rest of the Districts will be commenced from 24.05.2021 will staggered approach, whereby students in a single class/grade may not be cleared for attending the institutions more than two days a week.
The above-mentioned instructions are subject to be reviewed in light of any further directions issued by NCOC, IPEMC, or Provincial Government.
All government and private colleges and universities will remain closed in the following % positive cases in the Department of Higher Education Khyber Pakhtunkhwa till 7th June 2021 in the following Districts:
List of Districts Where Schools Closed
Peshawar
Nowshera
Charsadda
Mardan
Swabi
Dir (Upper & Lower)
Bajaur
Buner
Malakand
Swat
Shangla
Abbottabad
Mansehra
Torghar
Haripur
Battagram
Orakzai
Kohat
Kurram
Bannu
North Waziristan
I.Khan.
You may also like: DRA-2021 @ 25% to More Employees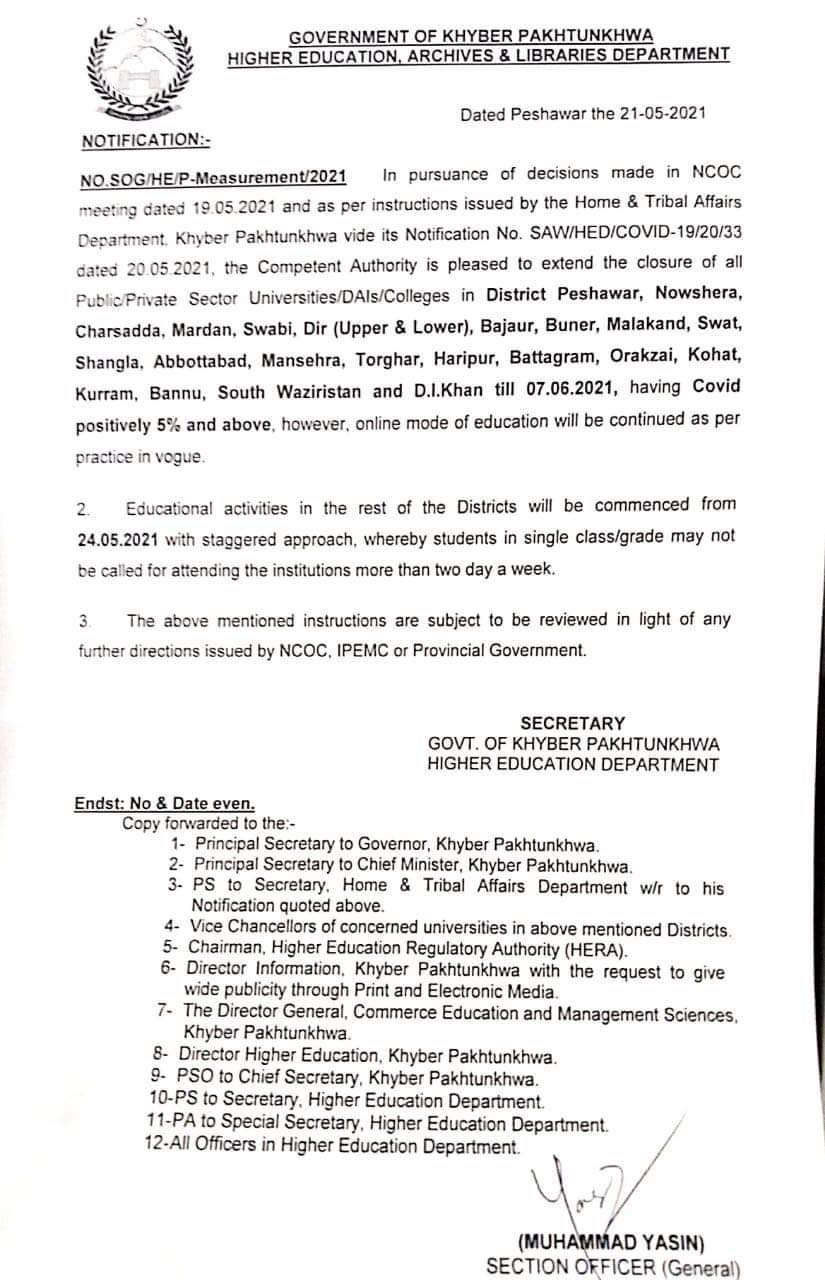 The Notification for closure for schools and colleges in Federal Directorate of Islamabad, the department has issued. SO the Educational Institutions in Islamabad will also remain closed till 6th June 2021. I am waiting for the Notification of Punjab, Sindh, Balochistan, and Federal Educational Institutions. They can issue the Notification today on 21-05-2021.