Last Updated on October 31, 2021 by Galaxy World
Can EOL be converted into any other kind of Leave? The answer of the same is "No". Extra Ordinary Leave (EOL) Leave without Pay cannot be converted into any other kind of leaves such as Medical Leave, Casual Leave, and Earned Leave with Pay etc.
Conversion of EOL into Any Other Kind of Leave
Sometimes, the employee has not earned leaves in his/her credit or Department grants him EOL on specific basic. Later on when the employee has enough earned leaves in his/her credit and he/she wants to convert them into another category of leaves where he/she can get pay for these leaves. He/She cannot do so at a later stage.  
                The EOL without pay period is not counted towards pension or gratuity. If the total service including EOL of the employee is 25 years and the employee has one year's EOL. In this case, if the employee wants to get retirement from service, he/she must have to render one year more service to complete his/her 25 years' service.
The Finance Department Punjab and Finance Division have clearly described the EOL (Leave without Pay).
The undersigned is directed to state that Finance Division has been receiving references regarding conversion of Extraordinary leave (EOL) without pay into other kinds of leave. It is clarified that the following special features of the EOL need to be in view while dealing with such cases:-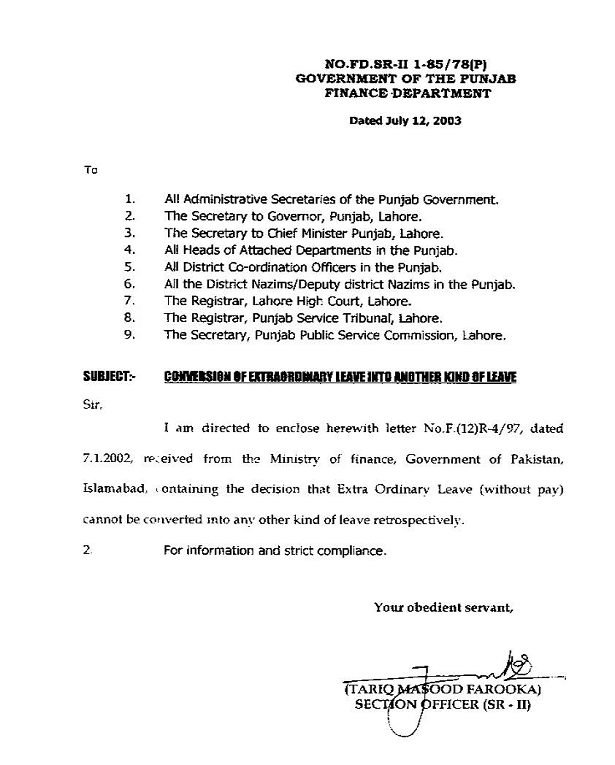 Special Features of Extra Ordinary Leave Need to View
Pay and allowances are inadmissible during EOL. Annual increments also are inadmissible under IR-26.
The period of EOL is not counted towards pension either under CSR 361.
EOL can cover a period of unauthorized absence; either under administrative order vide Rule 9(3) of revised Leave Rules 1980 or on the court's directions.
The period of EOL is not considered as a period spent on duty under FR-9(6).
Reasons Not to Change EOL into Other Sort of Leaves? 
2. Due to the special characteristic of EOL stated above, no rule has been framed for its conversion into another kind of leave retrospectively because it not only involves payment of salary for the previous EOL period but would also involve a change in the direction/orders of the authority. Moreover, a Government, Servant under rule 24 of Revised Leave rule 1980, has been given the option to apply for any kind of leave. Leave sanctioning authority has no power to change the nature of leave.
                This option, once exercised by the Government servant is considered final. Sometimes cases for retrospective conversion of EOL into another kind of leave are coved on the basis of CSR 232(3) in spite of the fact that CSR 232(3) does not specifically deal with EOL. Similarly, Government decision (3) under FR-87 cannot be used for conversion of EOL into another kind of leave because the said rule governs the leave salary. In the light of the foregoing position, it has been decided that EOL cannot be converted into any other kind of leave retrospectively.
Ministries/Divisions of Federal Government are requested to circulate the aforesaid decision to their attached Departments and subordinate office for information and compliance.
You may also like: Leave on Half Pay