Last Updated on October 31, 2021 by Galaxy World
I am here sharing the detail of leave on half pay. I hope this detail will be effective for the new entrants as many employees especially the new entrants are not aware of the concept of this category of leave.
I have already shared about the leave without pay (extra ordinary leave) for the information of the employees. An employee can get the leave without pay if there are no leaves in his/her leave account credit.
An employee can get the this kind of leave by written application if he/she will so. There are two situations for the same leave.
There are less leaves in his credit as compared to the number of leaves the employee required.
The employee doesn't want to finish maximum of his leaves and he wants to save leaves in his leave account credit.
In half pay leave, an employee will get double leaves by deducting half leaves in his credit.
Example of Leave on Half Pay
Its example is simple, suppose an employee needs 80 days leaves and he has only 50 leaves in his leave account credit, then he can opt to convert all or some of his leaves into half pay and in this way, he can avail 80 days leave. It is to mention here that he can convert his 80 days leave into half pay. Thus, there will be only deduction of 40 leaves from his account and there will be saving of 10 days leave in his leave account credit. There is another option for the employee In this option he/she can utilize all his 50 leaves. In this way he can will convert his leaves in credit into half pay and remaining 20 leaves on full pay.
Ref: ESTA CODE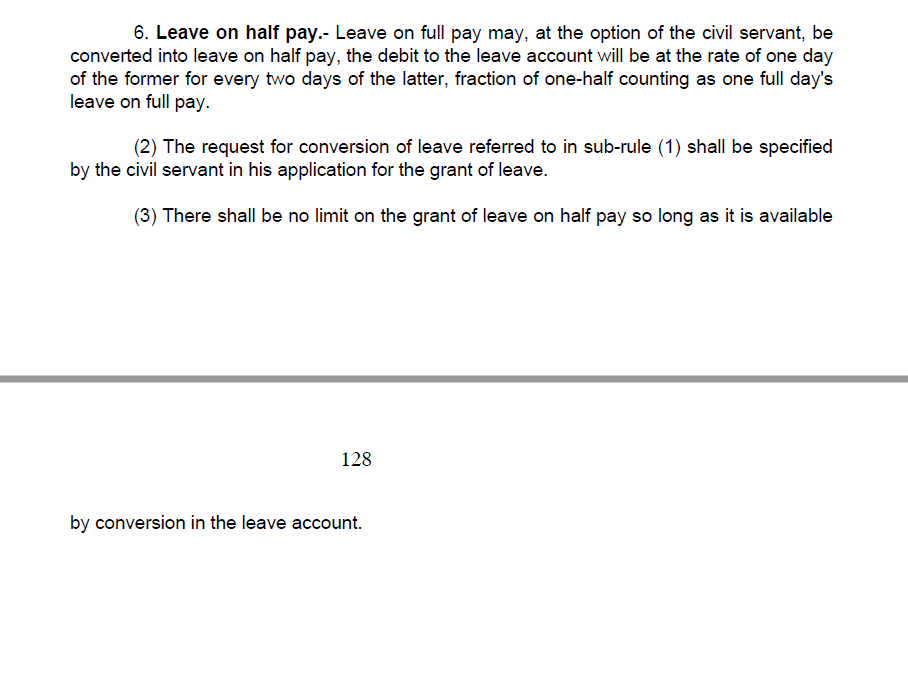 Rulings for Punjab Government Employees
The rulings for the Punjab Government employees is same as federal on the topic of leave on half pay. There is also no limit of this leave for the Punjab Govt employees. They can avail as much leave as they can but condition is that there should be leave in credit.

You may also like: Detail of Maternity Leave