Last Updated on February 8, 2023 by Galaxy World
As you know, Punjab Government has already issued the Notification of Paternity Leave for Male employees and I received many questions regarding How Many Times Paternity Leave for males and Period of Leave is admissible.
Paternity Leave for Male and Period of Leave and Times
                According to the Notification No.FD.SR.ll-9-107/2012 dated 30-10-2023, the Finance Department clarified that the male Government employees of the Punjab Government can avail the paternity leave as under:
Total Number of leaves admissible = 7 days of paternity leave
Pay = On full Pay
Deduction of leaves from Leave Account Balance = No
How many times: Only two times during the whole of the service of a male employee
Sanctioning authority Immediate Incharge
Clarification / Explanation of Duration of Leave
From the above facts, we can conclude that the Punjab Government male employees can get 7 days of paternity leave each time but a maximum of 2 times during their whole service.
The employees will get this kind of leave on full pay. They will not have to deduct their pay for this purpose.
Normally the leave taken by the employee is deducted from the leave account balance, however, in the case of paternity leave, the employee's leaves will not be deducted from the leave account balance.
The immediate incharge of the employee has the power to grant maternity or paternity leave to the employee.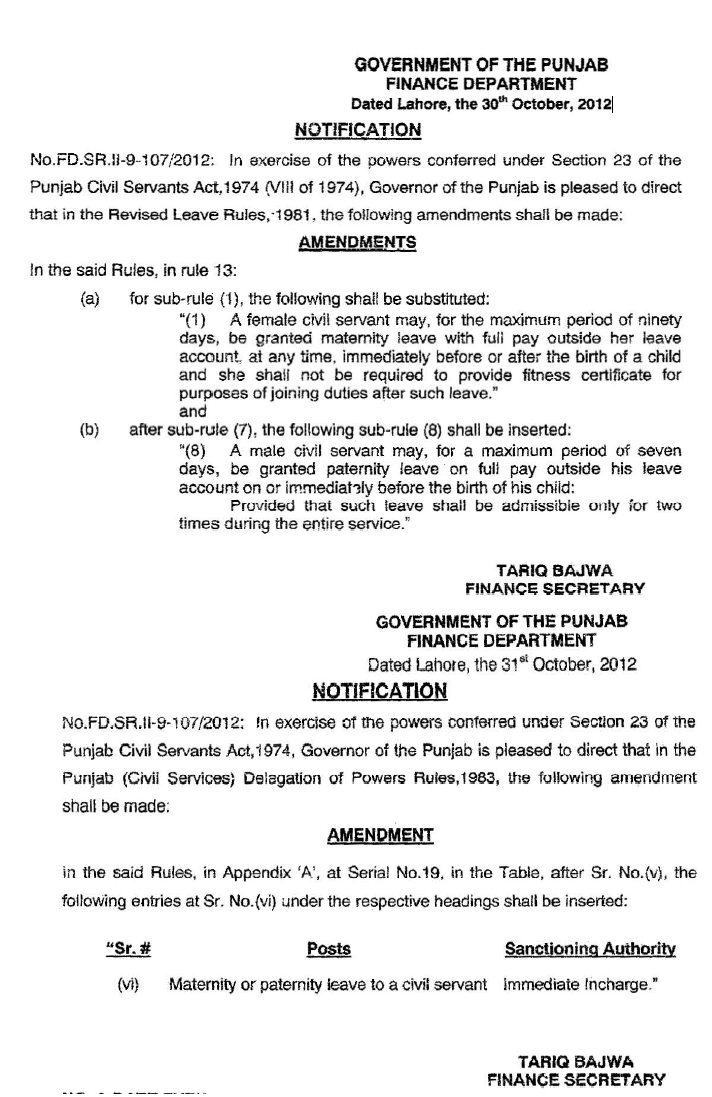 Before this, there was a Senate Bill for 6 months of Maternity Leave for female Government employees. The Government did not take any action on this bill. The employees got no benefit from this bill of the Senate. In this bill, there was also a proposal for three months of paternity leave for male employees. Such type of leaves really facilitates the employees. Especially paternity leaves are good for families to look after.