Last Updated on October 31, 2021 by Galaxy World
Government of Pakistan, Finance Division has issued an Office Memorandum on 29-09-2021 in connection with Increase Tenure Track System (TTS) Pay Package 2021. In the same way, Higher Education Commission has also issued its Notification on 30th Sep 2021.
Increase Tenure Track System (TTS) Pay Package 2021
In pursuance of approval of the Prime Minister of Pakistan, conveyed by Finance Division, Government of Pakistan vide its Office Memorandum No.F.N.4 (6)R-4/2006 dated 29.09.2021 (Annex-I), HEC is pleased to notify enhancement in the Tenure Track System (TTS) pay Package @35% w.e.f. 20.09.2021. The existing and revised TTS Salary will be as under:
Category
Existing TTS Salary Package
Revised TTS Salary Package
Stages
Min.
Inc.
Max.
Min.
Inc.
Max.
Professor
292,500
14,300
507,000
19,305
19,305
684,450
15
Assistant Professor
195,000
11,375
365,625
15,356
15,356
493,590
15
Assistant Professor
130,000
8,937
264,055
175,500
12,065
356,475
15
35% Gap Between BPS and TTS Faculty Salaries
Henceforth, a 35% gap would be maintained between Basic Pay Scales (BPS) and TTS Faculty Salaries. Moreover, up to 15% of faculty would be eligible for 100% increase who meets the additional benchmarks of 'h index of 25' and '5000 citations'
the other terms and conditions shall remain the same as contained in finance Division's U.O No, F.4(10)R.4/02-(Vol. I) dated 09.08.2007, circulated by the Higher Education Commission vide its Notification No. F.P.2-103/HEC/2007/776 dated 15.09.2007 (Annex-II).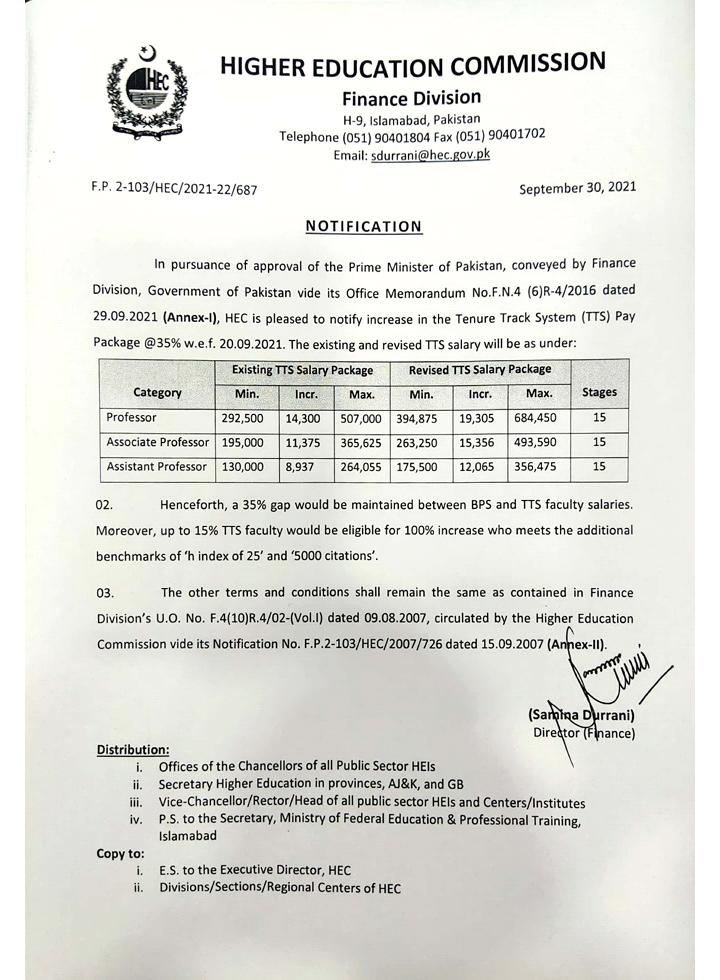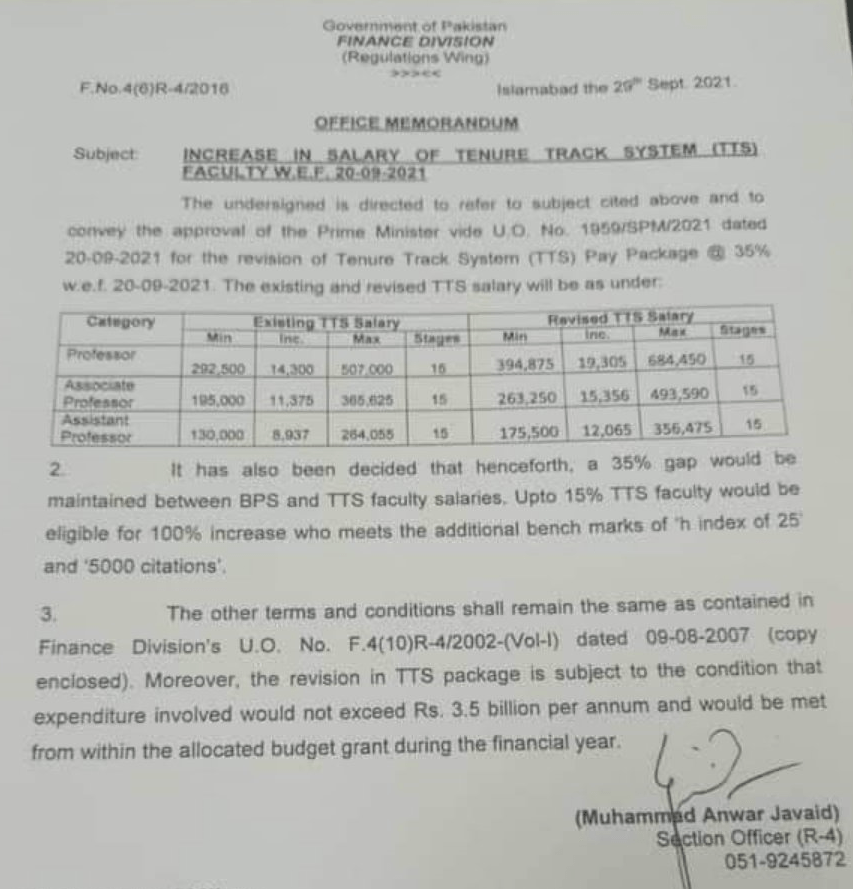 Special Thanks: Mr. Zahid Khan