Last Updated on January 28, 2022 by Galaxy World
Government of the Punjab, Finance Department has issued a Notification on 26-01-2022 in connection with Clarification Verification No Income Certificate for Sanctioning Family Pension. The details are as under:
Clarification Verification No Income Certificate for Family Pension
I am directed to refer to the policy letter of this department bearing No.FD.SR.III-4-111/89, dated 22.07.1989 and No.FD.SR.III-4-57/2013, dated 15.05.2013 (copies enclosed) and state that both of these letters contain the condition of having no regular source of income upon receiving of family pension to the unmarried daughters, widowed daughters, divorced daughters, and unmarried sisters of a deceased pensioner/civil servant. However, a question has arisen that who will be the competent authority for verification of "No income Certificate" for sanction of family pension in such cases.
The Finance Department examined the matter. It is clarified that it is for Pension sanctioning Authorities to fulfill this condition while sanctioning family pension cases.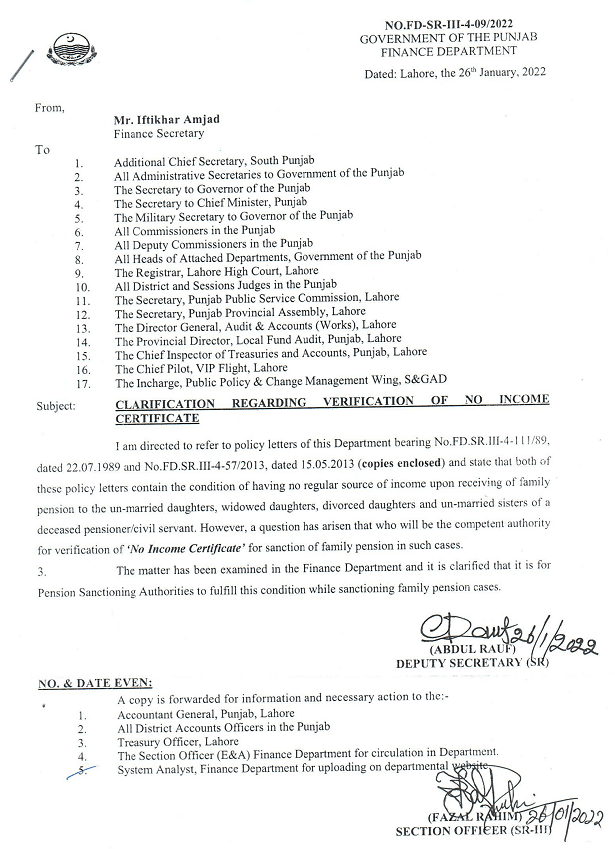 The government of the Punjab Finance Department issued a Notification on 15-05-2013 in connection with the Liberalization of Pension Rules.  In the same way, Finance Department Punjab also issued a Notification on 22-07-1999 on the subject "Liberalization of Pension Rules – Family Pension".