Last Updated on June 28, 2022 by Galaxy World
As per the budget speech, Revised Pay Scales 2022 and 15% Increase Salaries GB have been announced. Not only did Gilgit Baltistan increase 15% in pay but also announced to merge of some Adhoc relief allowances for revision of basic pay scales in 2022.
Revised Pay Scales 2022 and 15% Increase Salaries GB Budget Speech
The GB Government has also announced a good package for its employees and pensioners. The following GB Government announced for the employees.
Revision of Basic Pay Scales 2022
Merging of Adhoc Relief Allowances
Increase in Salaries @ 15% of Basic Pay
Minimum salary for Contingent Paid Staff Rs. 25,000/- per month
Disparity Reduction Allowance 2022 @ 15% of Basic Pay Scales 2017
The employees of BPS-20 and above will get the Disparity Reduction Allowance 2022 as Federal @ 25% of running Basic Pay Scales 2017.
Introduction of Key Performance Indicators
All Packages Announced in Budget 2022-23 GB
Gilgit Baltistan Government announced various appreciable packages for the employees. This step of the GP Government will bring happiness to some extent to the life of the employees of their families. The details of the packages for the employees are as under:
Revision of Basic Pay Scales 2022
The Gilgit Baltistan Government took a very good initiative as Other Governments of Pakistan. The employee of GB were waiting for the revision of their basic pay scales since 2017. After about 5 years Government heard their voice.  Now Government will merge some of the Adhoc relief allowances into basic pay. Thus their basic pay, as well as annual increment, will increase.
DRA 2022 @ 15% GB
The other benefits are the Disparity Reduction Allowance. Federal Government employees got the DRA 2022 with effect from 1st March 2022. But the GB employees were deprived of it. Now the employees of GB will get this DRA like Federal employees.
15% Increase in Salaries
The employee of GB will also get an increase of 15% in their pay. This will also add charm to their services and they will do work with more zeal and zest.
Minimum Salaries GB
                The contingent paid staff will now get a minim of Rs. 25,000/- per month salary. This action will help the employees to meet their routine expenses.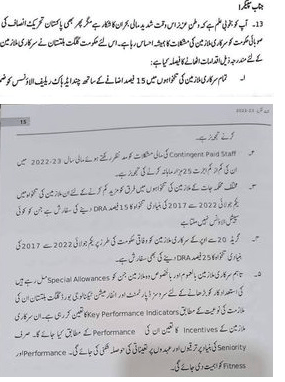 You may also like: Payment of Allowances during Leave
Special Thanks: Mr. Ibrahim Mhd