Last Updated on April 25, 2022 by Galaxy World
Government of the Punjab, Minimum Wages Board has issued a Notification on 22-04-2022 in connection with Minimum Wages Rates April 2022 Punjab.
Minimum Wages Rates April 2022 Punjab
Thus the Government of Punjab has fixed a minimum of 25000/- per month salary for the workers. The new and revised rates of daily wages and monthly minimum wages are with effect from 1st April 2022.
The following deductions they will make from the employees for providing housing accommodation and transport to the workers, they employed.
Housing Accommodation             @ 310/- per month
Providing of Transport                   @ 66.25 per month
Table of New/Revised Rates
Sr. No
Category of Workers
Proposed minimum wages rates
Per Day (For Eight working Hours)
Per month (for Twenty Six Working Days)
1
Unskilled Young & Adolescent workers employed in all industrial & commercial establishments of the province of Punjab
Rs. 961.53
Rs. 25,000/-
Before this Finance Division issued a Notification on 14th April 2022 regarding Special Allowance 2022 Federal. This Notification also ensures the minimum salary of the Federal Government employees is 25,000/-. The difference between the Federal and Provincial Government Notification is as under:
Federal: For Federal Government Employees
Punjab Provincial: Only for the workers
You may also like: Teaching and Non-Teaching Jobs in UE Punjab
Special Thanks: Mr. Arshad Mahmood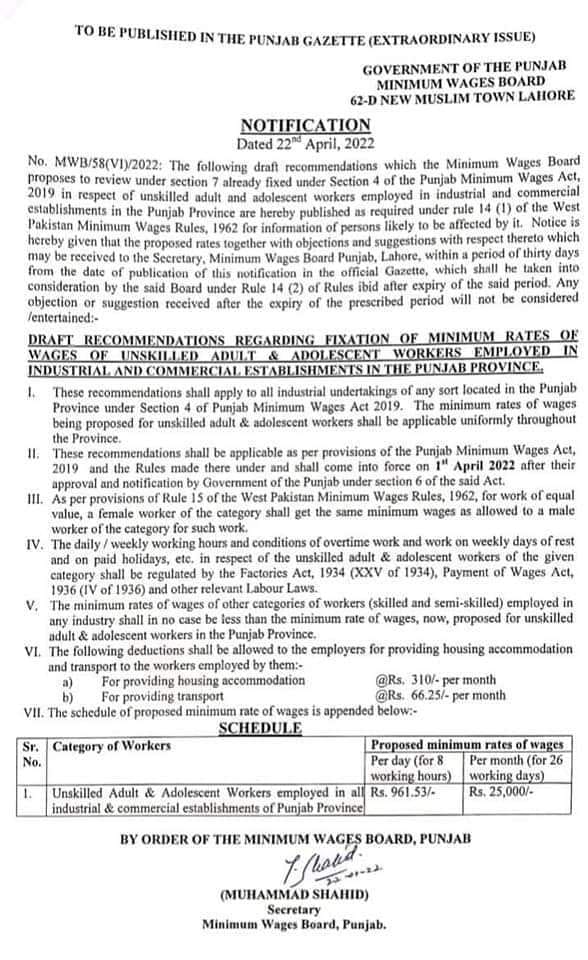 It is good news for the Punjab workers. This package will really support the families of the workers. Employees always want good news for them. Federal Government has also facilitated the employees before eid by giving advance pay and allowance April 2022. Punjab Government employees and workers will also get their salary before Eid.