Last Updated on January 27, 2023 by Galaxy World
Government of Pakistan, Finance Division has issued the hence Tentative Date of Announcement Budget 2023-24 Pakistan. According to the Finance Division, the Budget 2023-24 will be presented during the first week of June 2023. The final Date of presentation of Budget 2022-23 was 10th June 2022. General Governments announce the budget on Friday and there are chances that the same, Govt will announce it on Friday this year too.
Tentative Date of Announcement Budget 2023-24 Pakistan
Federal Government forms the schedule for the next Federal Budget. The Government makes a proper schedule structure for the process of budgeting. Here are details for the Budget including the Schedule for the Meeting of the Review Committee and the Budget Strategy Paper.
Federal Budget 2023-24 Schedule by Federal Government
Here I will describe the schedule for Federal Budget 2023-24. The Budget year 2022-23 is ending. The Committee shall now plan a new Budget for the Economic Year 2023-2 as per the Federal Government schedule. Here is the schedule:
Meeting Of Review Committee
Budget Review Committee shall meet up from 22nd  March to 31st March 2023. Said committee will prepare a Budget Strategy Paper. The Committee will take into account all the important points and review the targeted points.
Presentation of Budget Strategy Paper
The Committee will present the Budget Strategy paper in front of the Federal Cabinet. In this concern Finance Minister also issues Budget call Circular 2023-24. In which the Finance Minister tells that the process of revision shall be completed at the end of February.
Estimation of Income and Expenditures
The process of Estimation of the Income and Expenditures The Finance Division will complete by the 2nd week of March 2023. The targets of 3 years of Performance will also complete in the 2nd  week of March 2023 framework will be ready in the 3rd week of March.
Revision of Non-Tax Revenue
The Committee will also make a final revision of 660 billion Non-Tax Revenue during March 2023. The committee will form new targets for Non-Tax Revenue for next year on this basis.
Budget Lay Out
The National Economic Council will approve Macro Economic Framework and Annual Budget laid out in the Chairmanship of the Prime Minister in the First week of May. The Budget summaries the concerned will also prepare in May.
Schedule for Presentation of Federal Budget 2023-24
The approved  Federal Budget for year 2023-24 will be presented in 1st week of June 2023.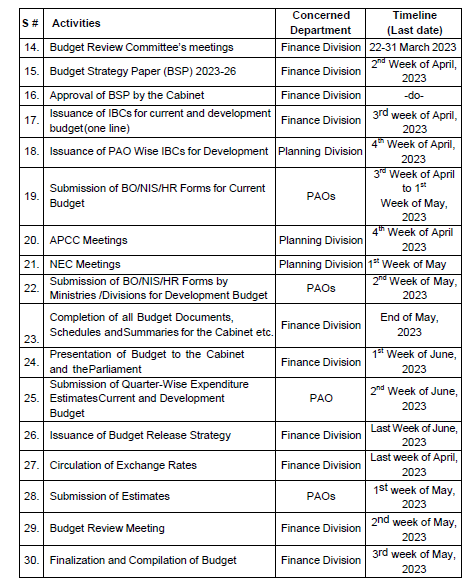 A newspaper Clip
I am sharing here the newspaper clip showing the schedule of the annual budget for 2023-24 Pakistan.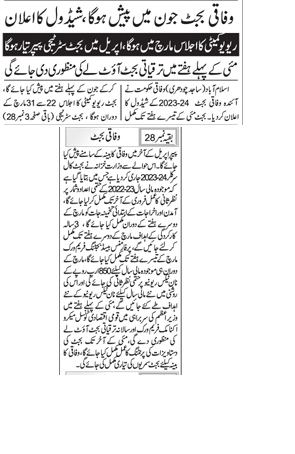 Government Employees Expectations
Government employees expect a much from this budget. There are many demands of Federal Government Employees that are still pending. The employees want they have reasonable pay and allowances keeping in view the dearness in the country. The main demands are as under:
Up-gradation of Employees
Time Scale Promotion of Employees
Increase in House Rent Allowance
Enhancement of Medical Allowance
Equalization of Salaries of all employees of various departments