Last Updated on April 22, 2022 by Galaxy World
Government of Pakistan, Finance Division has issued the Notification on 14-01-2022 regarding Date of Announcement of Budget 2022-23 (Budget Call Circular).  According to this letter, the tentative schedule of the announcement of Budget 2022-2023 is as under:
Date of Announcement of Budget 2022-23
Tentative Date of announcement of Budget 2022-2023:  1st Week of June 2022
According to Dunya News (dated 22-04-2022, the Budget Presentation in National Assembly, the Government has decided in the first week of June 2022. The budget session will remain open throughout the month.
This is a tentative date and there are chances that there may be an amendment on this date and the final date they will decide just a few days before the presentation of the Budget. As as soon as I get the updates, I shall keep updating here.
Contents of the Federal Budget
This budget calendar for the year 2022-2023 includes the following:
Federal Receipts
Current and Development Expenditures on revenue & capital Accounts
Foreign Exchange Budget
For You: Public and Optional Holidays 2022 Pakistan
Schedule of the Budget 2022-2023
Submission of proposed Current & Development Expenditure Budget Estimates (Form-II and Form-III)
PAOs
15th March 2022
Budget Review Committee's meetings
Finance Division
4th week of March 2022
Budget Strategy Paper
Finance Division
15th April 2022
Issuance of IBCs for current and development budget
Finance Division
3rd week of April 2022
APCC & NEC meetings
Planning Division & Finance Division
April – May 2022
Submission of BO/NIS Forms for the current budget
PAOs
25th April to 10th May 2022
Submission of BO/NIS Forms by Ministries / Divisions for development budget
PAOs
10th to 17th May 2022
Completion of all Budget Documents, Schedules, and Summaries for the Cabinet, etc.
Finance Division
End of May 2022
Presentation of Budget to the Cabinet and the Parliament
Finance Division
1st Week of June,
You may also like: Pension and Pay Increase in NPS 1994 in Two Steps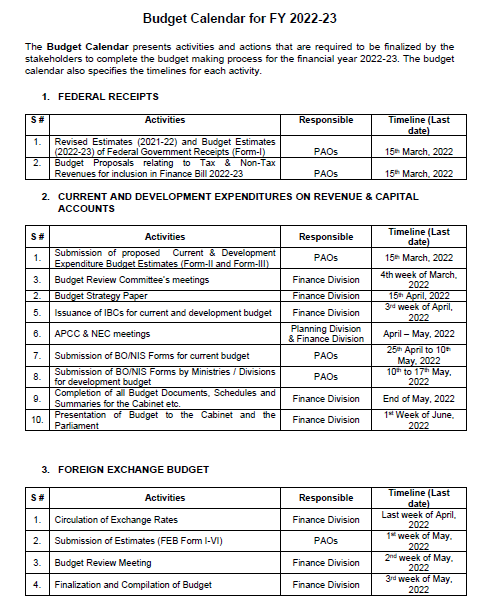 The expectation of Employees from the Coming Budget
The employees of Pakistan are expecting much from this budget. This is mainly the last budget to utilize by this Government. The employees hope that Government will do much for the employees in this coming budget. The employees demanding the following to increase/grant:
Revision of Basic  Pay Scales 2022
Merging of All Adhoc Relief /Disparity Reduction Allowance/ Special Allowance
Upgradation of various pay scales to remove disparity of all employees
Grant of Time Scale
Increase in Pension
Enhancement in Medical Allowance
Increase in Conveyance Allowance
As the Government now in Pakistan changed, Now the combined Government of PMLN, PPPP, JUI, MQM, BAP, and other political parties in Pakistan exists.
The track record of the past shows that PPP always increased the salaries. However, if we look into the matter of Revised Pay Scales, then PMLN played a vital role in this regard.