Last Updated on August 6, 2021 by Galaxy World
Finance Division, Government of Pakistan has issued a Notification on 03-03-2021 in connection with Disparity Reduction Allowance 2021 (DRA) @ 25% of Pay. This Notification is with effect from 1st March 2021 for Federal Government employees. The details of the same ARA-2021 are as under:
Disparity Reduction Allowance 2021 (DRA) @ 25% of Pay
This increase in salary is for the Federal Government employees of BPS-01 to BPS-19.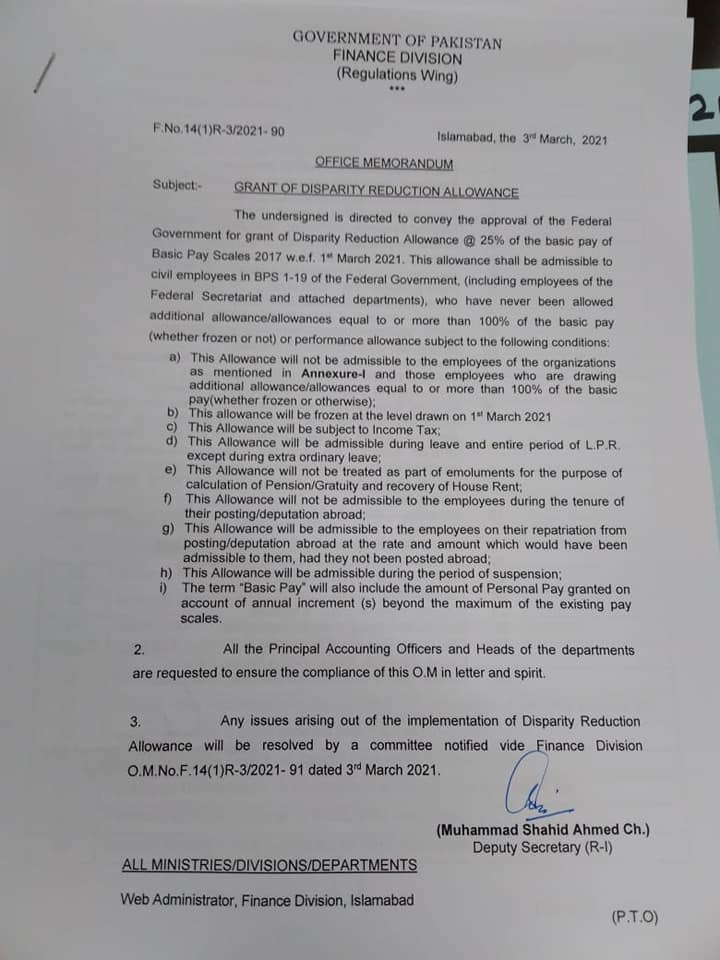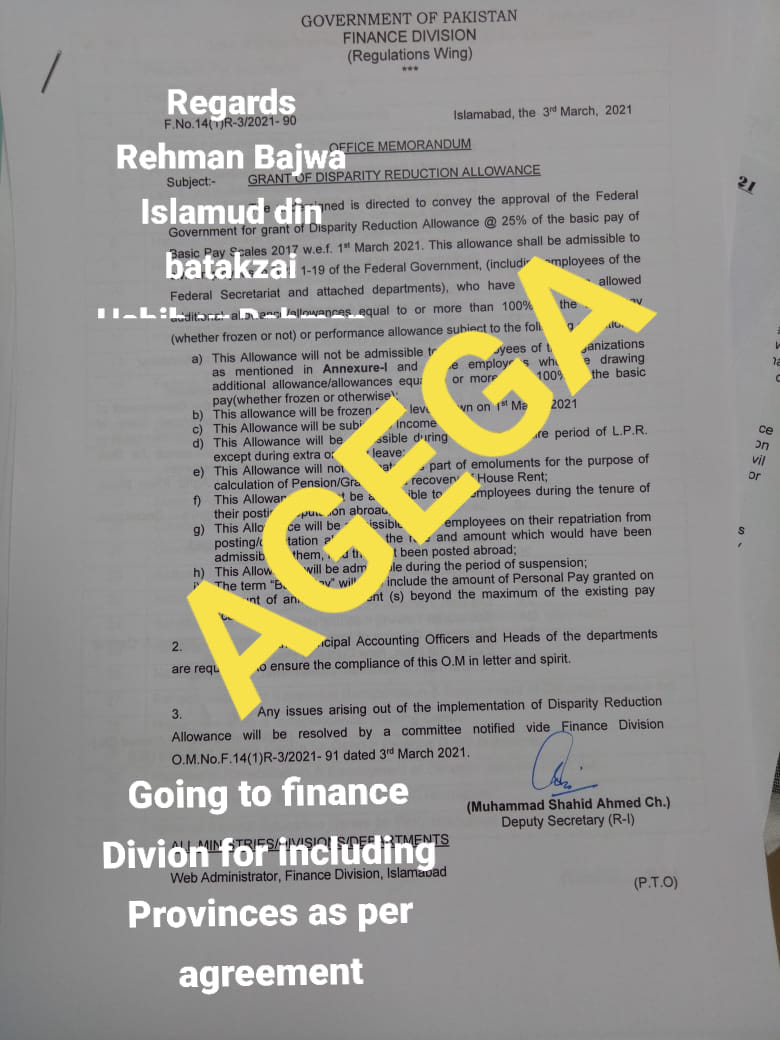 Clear Copy:
Just wait for the clear copy of the same Notification. As soon as I get the clear copy of the Notification of DRA-2021 @ 25%, I shall upload the same here at the same post.
Why Govt Raised Pay?
It is to mention here that Federal Government did not enhance the salaries during the year 2020-21 for the employees. The budget announcement in June 2020 was without any increase in pay and pension for the employees and pensioners. The Federal Government increase salaries in 2019-20 but just Adhoc Relief Allowance 2029 @ 10% for the employees of BPS-01 to BPS-16. While Finance Division issued a Notification for a 5% increase in salaries of employees BPS-17 to 20. There was no increase for BPS-21 to 22. Now the Government agreed to pay increase of employees @ 20% for all employees of BPS-01 to BPS-19 of the Federal Govt.
First Time in March Salaries Increase
This is for the first time in the history of Pakistan that Government enhanced salaries wef 1st March. Otherwise all Notifications in the history, the Government issued in July every year except December 2001 Pay scales Notification. One Notification, the Government issued with effect from 1st June 1994.  This year the Government has to do so as the employees were protesting to increase the pay due to dearness in the country.
Employees had many demands but due to successful negotiations, the Government accepted this main demand of the employees. The Government has promised to fulfill other demands in one month and the remaining in the coming budget 2021-22 of the Federal Government. This step of the Government will give relief to the employees. As per promise, the Federal Government will also make convince the Provincial Governments.
It is to mention here that Finance Division issued a Summary of Adhoc Relief Allowance and Upgradation of Clerical Staff on 11-02-2021.