Last Updated on April 23, 2023 by Galaxy World
Office of the Accountant General Punjab issued a clarification Notification on 17-11-2022 in connection with Two Advance Increments and Special Allowance 2021 to AEOs on up-gradation. The details are as under:
Two Advance Increments and Special Allowance 2021 to AEOs on Upgradation Clarification
Please refer to your letter No. DAO/NWL/CD-79 dated 10.11.2022 on the subject cited above.
In continuation of this office letter No.18/PR-C/Advance Increments/2021-22/CD-2427 dated 16.09.2022; The AGP clarifies that Mr.Shehzad Akhtar Ex SST got an appointment as AEO vide EDO Narowal letter No. EDO (EDU)/RFC/2016/3000 dated 29.07.2016 as per the recommendation of the District Recruitment Committee headed by District Coordination Officer, Narowal under Recruitment Policy 2016 for Recruitment of Educators and AEOs.
Appointment of AEOs
Since the officer was appointed as AEO, he cannot be adjusted against the non-Cadre posts as SST. His adjustment as SST by Chief Executive Officer. District Education Authority, Narowal Order No.CEO/(DEA)/ADMN-I/949 dated 10.03.2022 is not covered under the rules. The letter issued by this office dated 16.09.2022 mentioned above was issued due to concealment facts by the applicant.
Rule Para-5(ii)
Hence, as per para-5(ii) of Government of the Punjab Finance Department Order No. FD.PC-40/18 dated 27.08.2018; the officer is not entitled to two advance increments granted to SSTs/SSEs upon up-gradation on 01.01.2018 and Special Allowance 2021-22.
Your viewpoint is hereby confirmed.
(This issue with the approval of the Deputy Accountant General, Payrolls)
You may also like: Clarification Special Dispensation Defence Paid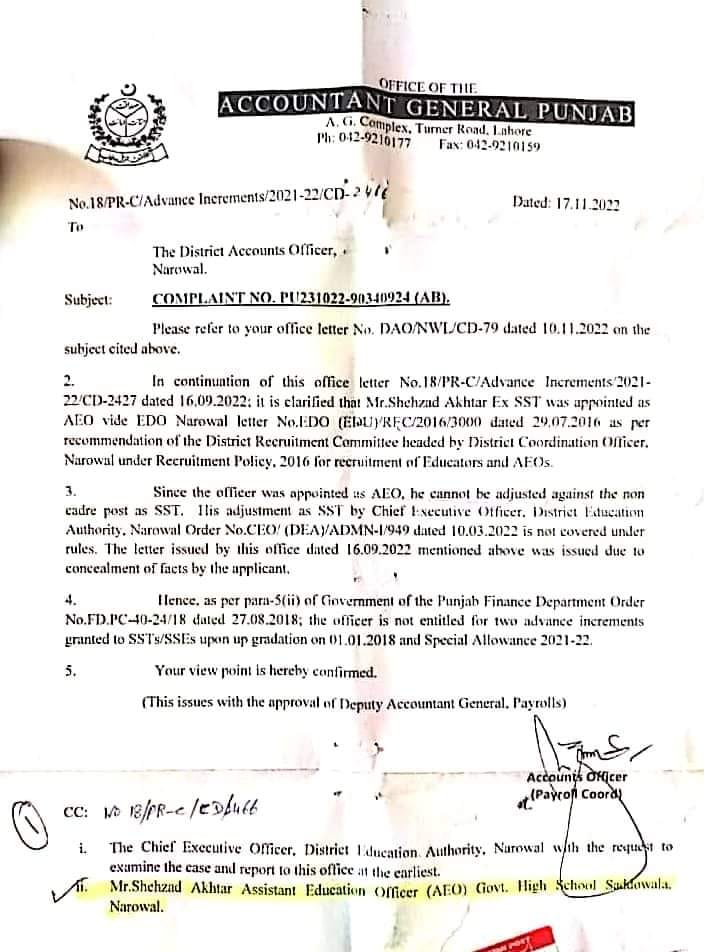 Conclusion
Keeping in view the above facts we can conclude the following:
The AEOs are Not entitled to two Advance Increments
Special Allowance 2021-2022
On the other ways, the SSTs are eligible for the said advance increments on their upgradation of the posts.
The AGP has informed the concerned Assistant Education Officer (AEO) and clarified the situation of the admissibility of the above increments and SA-2021-22. Punjab Government has already issued the Notification of Special Allowance 2022 @ 25% of Initial Basic Pay of 2027 Pay Scales.