Last Updated on May 26, 2023 by Galaxy World
Government of Sindh, Health Department issued a Notification on 22-05-2023 in connection with the Grant of COVID-19 Allowance Health Department. The details are as under:
Grant of COVID-19 Allowance Health Department Sindh
Section Officer for Secretary to Government of Sindh Health Department issues notifications to the Secretary to the Government of the Finance Department.
The main subject of the notification is the grant of COVID-19 Allowance to the worker Who is working under the supervision of the health department Sindh.
Equating Pay and Allowances with Sister Provinces
SGA&CD Notified the Redressal committee with a notification dated 21st November 2022.  The notification is about ascertaining and submitting the comparative statement of existing pay and allowances in all sister provinces.  This is important in order to equate the existence of pay and allowances with the sister provinces. The comparative statement about this is submitted to the ministerial committee.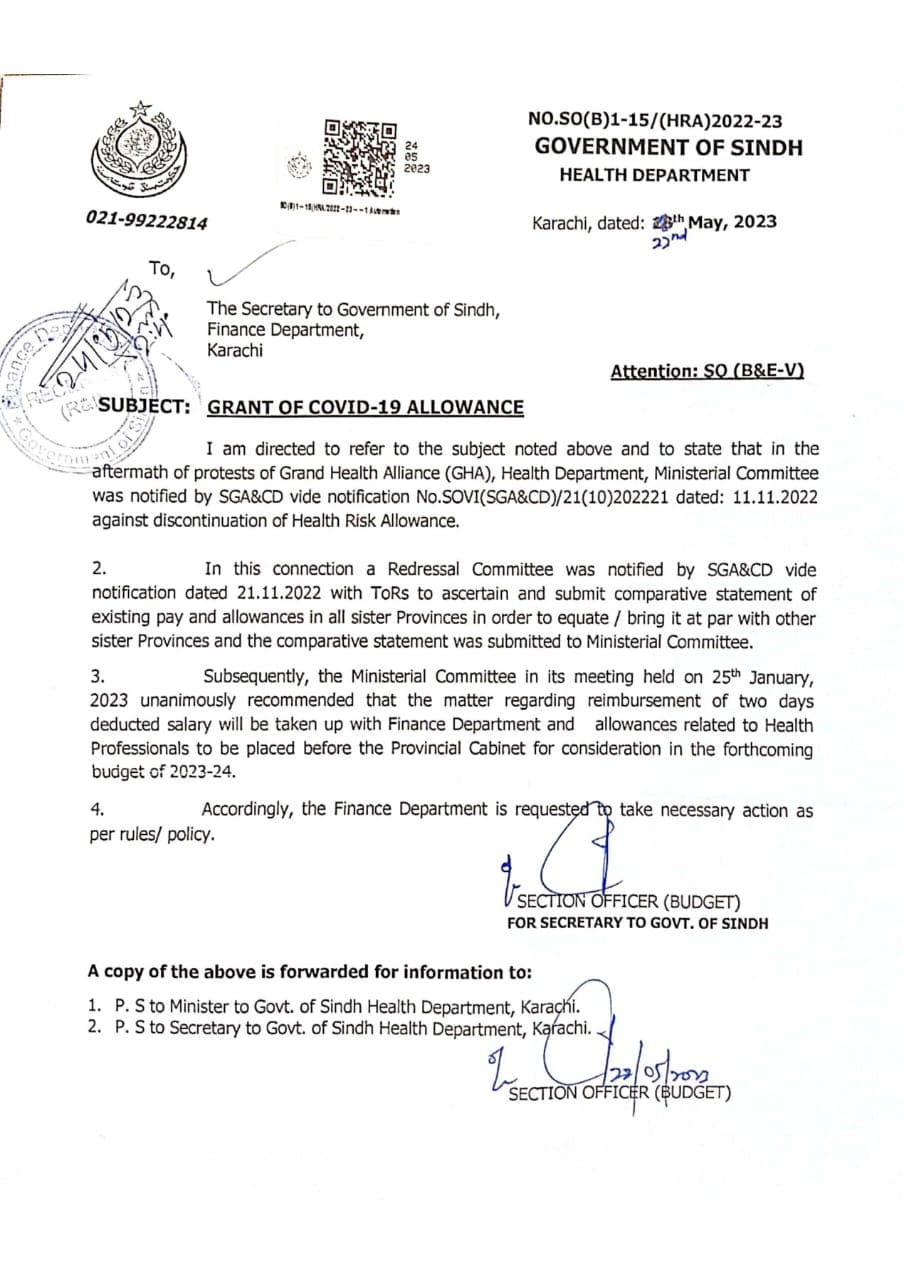 Discontinuation of Health Risk Allowance
This allowance is provided to the workers as per the severity of the risk of COVID-19. But as soon as the risk of this virus become weak, the finance department discontinued this allowance for all the workers who are receiving it.
Basically, Finance Department discontinued this allowance when the government announces that the risk of COVID-19 is reduced. But still, some of the people are infected by this virus. Indeed, the number of cases is not high. But for the professionals and workers of the health department, It is suggested to grant this allowance. As their lives are still at risk. The finance department must take action and make decisions according to the policy and rules of the government.
Summary Regarding Grant of COVID-19 Allowance
After observing A protest by Grand Health Alliance, a summary regarding the Grant of Covid-19 Allowance has been sent to the related authorities.
SGA&CD Send a notification to the Health Department and Ministerial Committee after the protest of the Grand Health Alliance (GHA), about discontinuation of health risk allowance. As all the workers working under the supervision of the health department in the Sindh province were receiving Covid-19 allowance.
Reimbursement of Two Days Deducted Salary
The Ministerial Committee held its meeting on 25th January 2023. After discussion in the meeting, the committee unanimously recommended that the matter regarding reimbursement of two days of deducted salary will be presented to the finance department.
It also recommended placing the matter of Pay and Allowances related to health professionals before the Provincial Cabinet. One of the main important matters is to grant COVID-19 allowance to health professionals. It is important for consideration in the forthcoming budget of 2023-2024.
After consideration, Finance Department must take the necessary action as per Rules and Government Policy.