Office of the Deputy Commissioner Lahore has issued the order on 02-11-2023 in connection with Daily Wage Rates 2023 and Monthly Emoluments. The new rates are on a daily basis and also on a part-time monthly basis. The details are as under:
New Daily Wage Rates 2023 and Monthly Emoluments by DC Lahore
On the acceptance of the government of Pakistan, the finance department issues the New Delhi wage rate for the labor: Punjab Government Finance Department has also issued the Notification of Scheduled Wage Rates 2023 Punjab for the labor rates in Punjab.
New Schedule of Daily Wages Per Day or Per Month
Sr.No
Type of Labour
Wage Rate 

Per Month  /Per Day

1.
Unskilled Labour
Rs.1231
2.
Semi Skilled Labour
Rs.1275
3.
Skilled Labour
Rs.1509
4.
Mason /Other Skilled Labour
Rs.1650
5.
Part-Time Emoluments
Rs.32,000 Per Month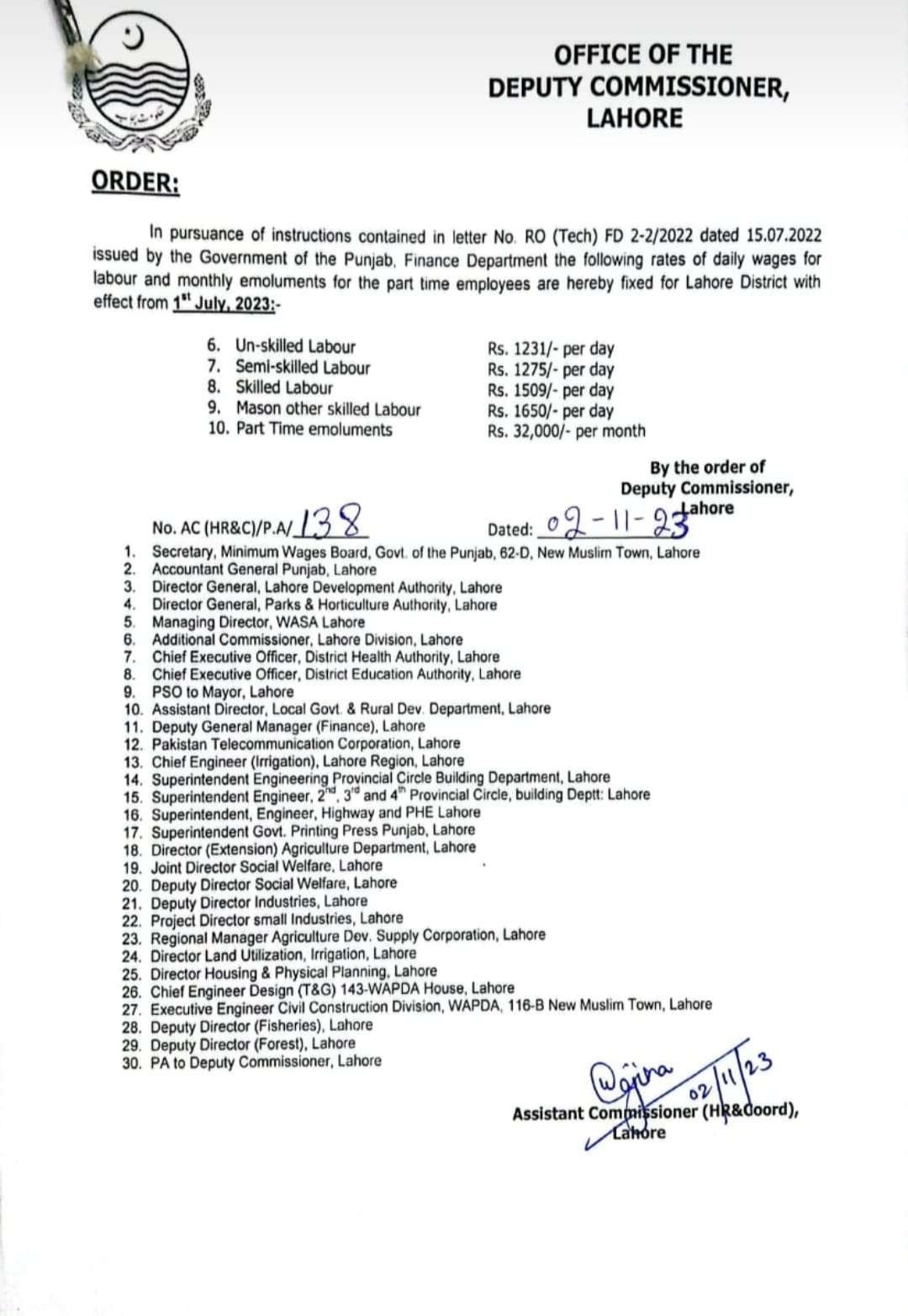 Revised Wage Rate of Labour
On the order of Deputy Commissioner Lahore, the wage rates of different types of Labour are decided.  The new Rates are applicable according to the instructions in the letter no. RO(Tech)FD2-2/2022. The letter was issued on 15-07-2022. For the assistance of The Pakistani people who belong to the labor class. The new rates are accepted. Competent authorities are bound to apply all policies and rules for the above-mentioned wage rates. The new wage rates are for various types of Labour. Every Labour Grade has an upgraded wage rate per day or per month. All the wage rates are fixed for the Lahore district with effect from the first of July 2023.
Latest Labour Wage Rate for Skilled /Unskilled /Semi Skilled or Part Time Emoluments
Here is the detail about the wage rate of above mention Labour kinds.
The per day wage rate for unskilled labor is Rs. 1231.
For the semi-skilled labor, the per day labor wage rate is Rs.1275.
The finance department finalizes the per day wage rate for skilled labor is Rs. 1509.
The Part-Time Emoluments will receive Rs. 32,000 per month.
About all these wage rates the complete instructions are available in the above-mentioned letter from the finance department. The department has forwarded this letter to other related authorities according to the approval of the finance department. The letter was put forward according to the guidelines of the government of Pakistan.