Last Updated on October 31, 2021 by ShumailaKamalBHP
Govt of Punjab Services & General Administration has issued Notification No. SOW-I (S& GAD) 1-3/2008 (P-II) dated 2nd July 2013 in connection with the cancellation of two days holiday in Punjab, instead only Sunday will be observed as closed day.
In partial modification of the said department's Notification dated 11-04-2013, the competent authority has decided that 5 day working week will be observed in the Province of Punjab by the administrative departments at the level of Punjab Civil Secretariat and Central Police Office. However offices at Divisional/District/ Lower Level for both Civil Administration and Police will observe 06-day working week for facilitation of inter-action with public.
In pursuance of the above the following office timings shall be observed with immediate effect and till further orders:
Timings For Offices Observing Five Days Week
| | |
| --- | --- |
| Days | Timings |
| Monday to Thursday | 0800 Hrs to 1600 HrsWith half an hour lunch/prayer break at 1300 Hrs |
| Friday | Lunch/Friday Prayer break at 1230 Hrs to 1400 Hrs |
| Saturday & Sunday | Closed Day |
 Timings For Offices Observing Six Days Week
| | |
| --- | --- |
| | |
| Monday to Thursday & Saturday | With half an hour lunch/prayer break at 1500 Hrs |
| Friday | 0800 Hrs to 1200 Hrs (Noon) |
| Sunday | Closed Day |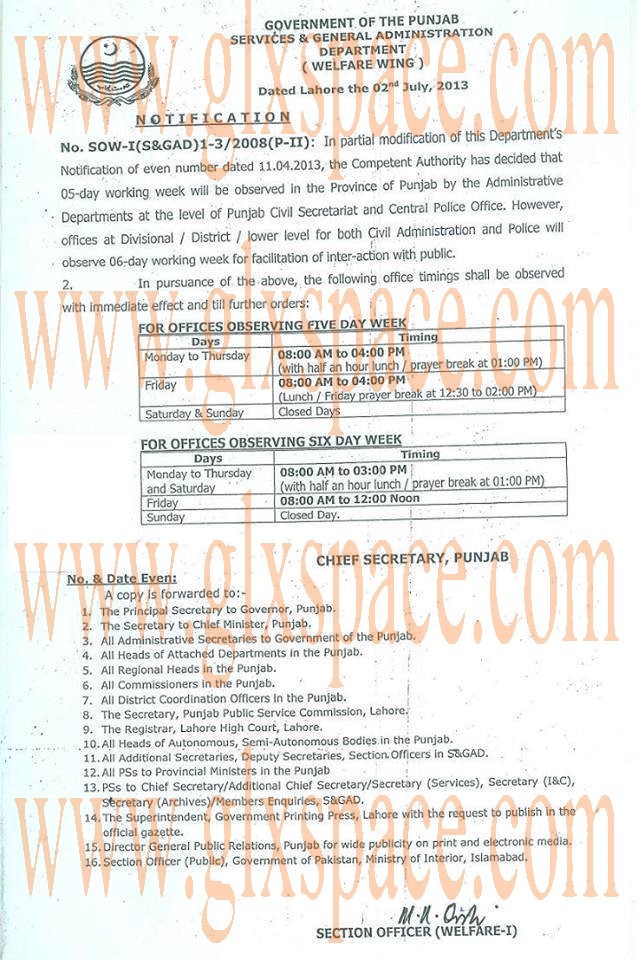 Clarification of the Above Notification: