Last Updated on October 31, 2021 by Galaxy World
Prime Minister Office, Islamabad has issued letter in connection with Enhancement Rental Ceiling for Hiring & House Rent Allowance-Updates. The subject of the letter is as under:
"Enhancement of Rental Ceiling for Hiring of Private Owned Residential Accommodation" summary of the same letter is as under:
However, keeping in view the genuine need to enhance the rental ceiling for hiring of private accommodation by government servants, the Prime Minster has been pleased to agree In principal to an increase in the curt limits of rental ceilings across all grades by 50 percent.  Furthermore, since the House Rent Allowance remains fixed as a proportion of 2008 pay scales, the Prime Minister, in the interest of equity, has also been pleased to approve in principal the enhancement of House   Rent Allowance by 50 percent t of the current level for all grades.
The Ministry of Housing and Works shall resubmit the summary accordingly.
Special thanks to Syed Muhammad Israr Kakakhel & Sher Muhammad and Muhammad Shahid Nawaz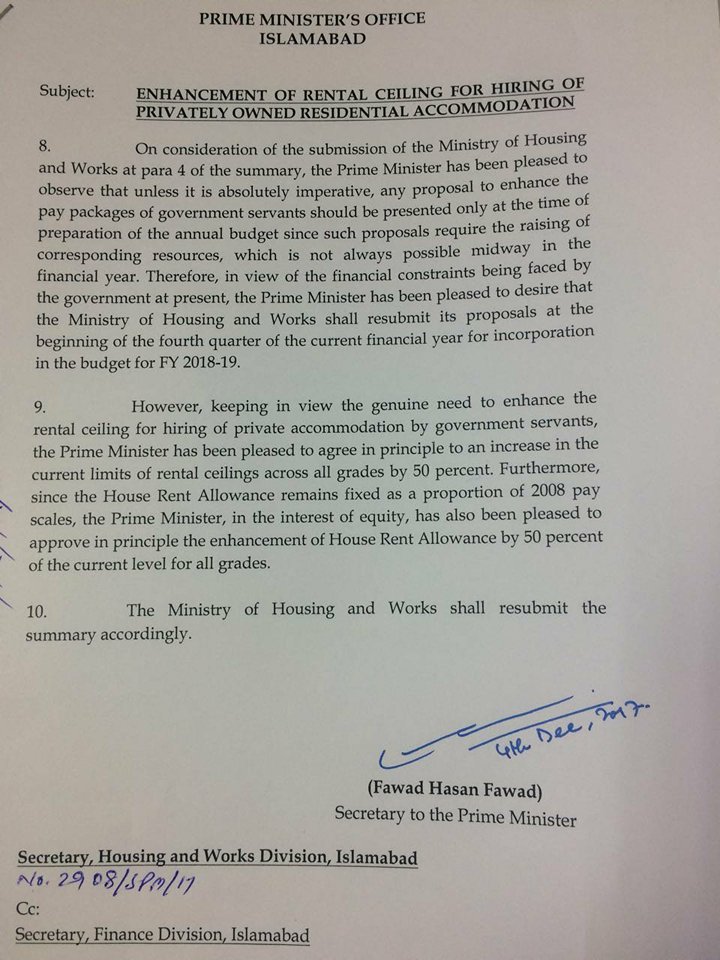 Expected House Rental Ceiling is as under: