Last Updated on August 6, 2021 by Galaxy World
Office of the Accountant General Sindh has issued Notification on 11-10-2019 in connection with New Email Solution for Pay Slips Sindh Govt Employees. Detail is as under:
New Email Solution for Online Pay Slips Sindh Employees
The office of the Accountant General Sindh is striving to facilitate the employees of the Government of Sindh. The accounts office requests the cooperation as fellows: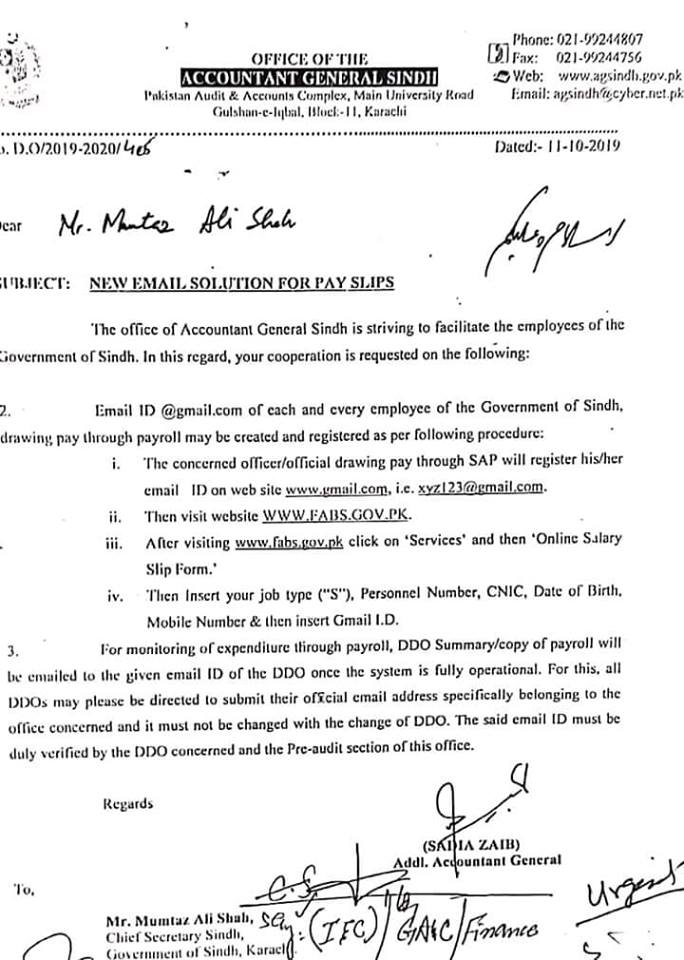 Email ID @gmail.com of each and every employee of the Government of Sindh drawing pay through payroll may be created and registered as per the following procedure.
The concerned officer / official drawing pay through SAP will register his / her email ID on the website of gmail.com i.e xyz123@gmail.com
Then visit the website www. fabs.gov.pk
After visiting the above site click on "Services" and then "Online Salary Slip Form"
Then insert your job type ("S"), personal number, CNIC, Date of Birth, Mobile Number & then insert Gmail ID.
For monitoring of expenditure through payroll, DDO Summary/copy of payroll will be emailed to the given email ID of the DDO once the system is fully operational. For this, all DDOs may please be directed to submit their official email addresses specially belonging to the office concerned and it must be changed with the change of DDO. The said email ID must be duly verified by the DDO concerned and the Pre-audit section of this office.
Pictorial Guidance for Online Salary Slip through Email for Sindh Govt Employees
Step One:
Just create your new email ID at Gmail only. The accounting office will not accept other emails.
Step 2 &3:
Go to the website of FABS and click the Heading "Services" as shown below: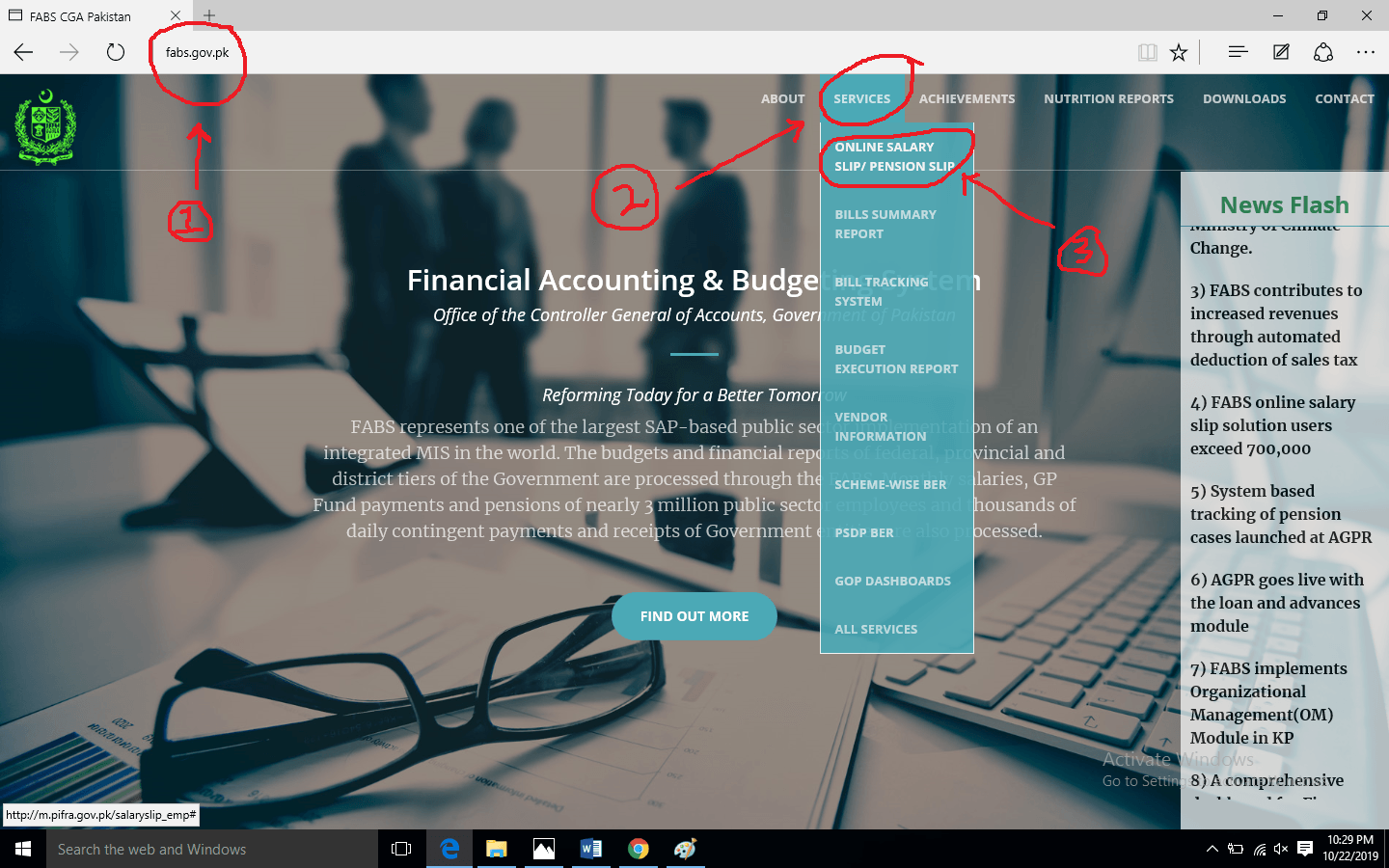 Step 4:
Just fill the online form and then finally verify it as shown in the picture below.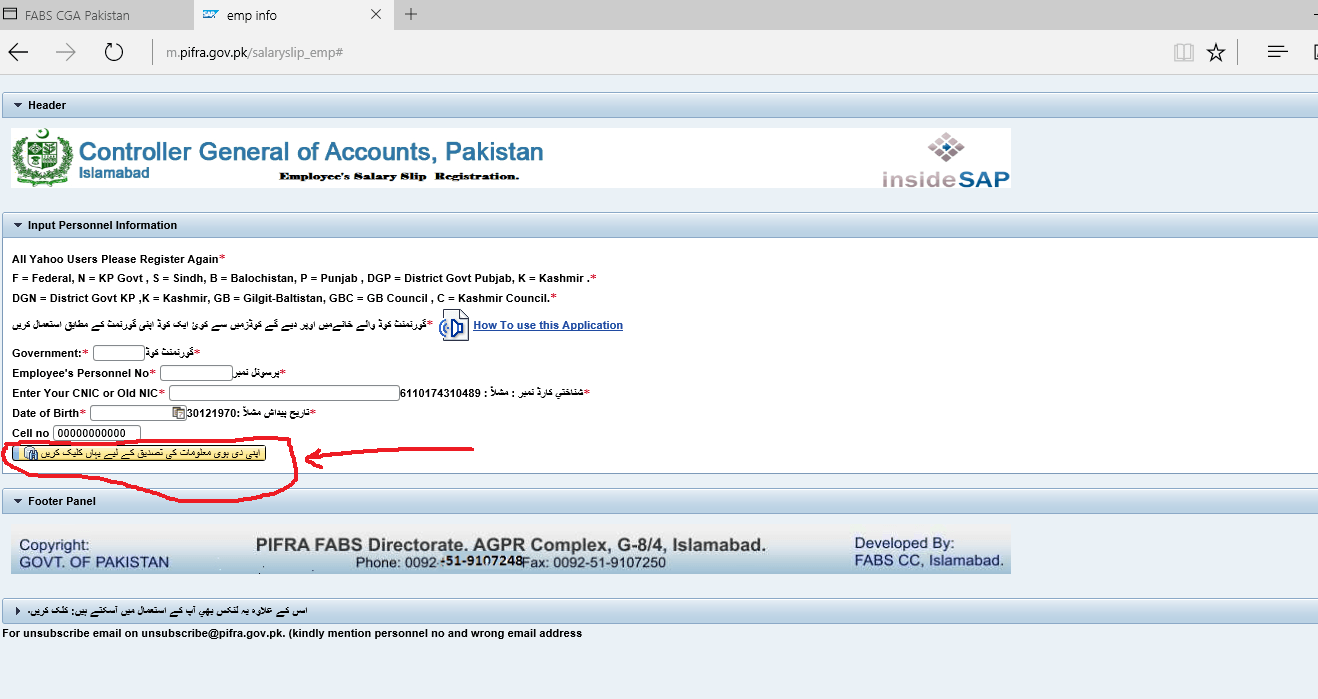 If you still face any issue regarding the registration, just comment below. I shall guide you as much possible as I could.