Last Updated on March 20, 2020 by Galaxy World
Finance Division has issued its press release on 20-03-2020 in connection with demand of 120% Increase in Salary. According to the details, a delegation of All Pakistan Audit and Accounts Association (Combined) met with Mr. Omar Hamid Khan (Special Secretary Finance).  The purpose of the meeting was to highlight the issues related to employees especially promotions and raise in the pay and allowances for the Government employees.  The delegation discussed the following issues:
Demand of 120% Increase in Salary
Increase in salaries @ 120% (100% increase in salary + 20% Secretariat Allowance)
Issue of the longstanding promotions of AOs and AAOs
Pending cases of Time Scale Promotion (TSP)
Service Reforms for the officers of the Accounts Services Department.
In the meeting, Accountant General Pakistan (AGP) Revenue was also present. The SS Finance listened to the issues of the delegation and assured them that he will help to solve all these issues.  He also assured that the matter of increase in salary will be taken at due course of time.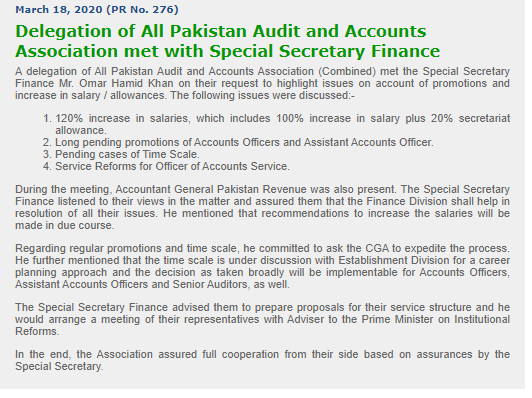 Request of Employees
For the information of the employees of all departments of Pakistan want to raise salaries in budget 2020-21. They are living from hand to mouth as Government increased their salaries since a year, where they were made to satisfy only at 10%. After that time the prices of all items to buy by the employee are at its hike. They want that salary should be equal in all departments. They are facing the issues of residence, food, health and many more.
Government Already Assured
It is further added that Finance Division has already assured to increase suitable salary for Government Employees. The reality is that the Government employees are in trouble especially the lower grade employees. Hope, Government will now feel the pain of the employees and will be the support of the employees. In this way they will be able to meet the dearness.