Last Updated on April 1, 2020 by Galaxy World
Khyber Pakhtunkhwa Private Schools Regulatory Authority has issued Notification on 30-03-2020 in connection with Summer Holidays 2020 by Private Schools KPK.
In continuation of this office's Notification of even number, dated 24/03/2020 and in compliance with the Notification issued by Govt of Khyber Pakhtunkhwa Elementary & Secondary Education Department vide No.SO (G) E&SE /1-48/2020 dated 29/03/2020 the competent Authority has been pleased to order that all Private Institutions / Tuition Academies in Khyber Pakhtunkhwa shall remain closed till 31st May 2020. They will treat this period of closure as Summer Vacation.
Board examinations or any other internal examination/assessment in all Private schools/academies shall stand postponed till 31st, 2020.
Special thanks to Mr. Najeeb Khan for sending a copy of the Notification of Summer Holidays 2020 by Private Schools KPK.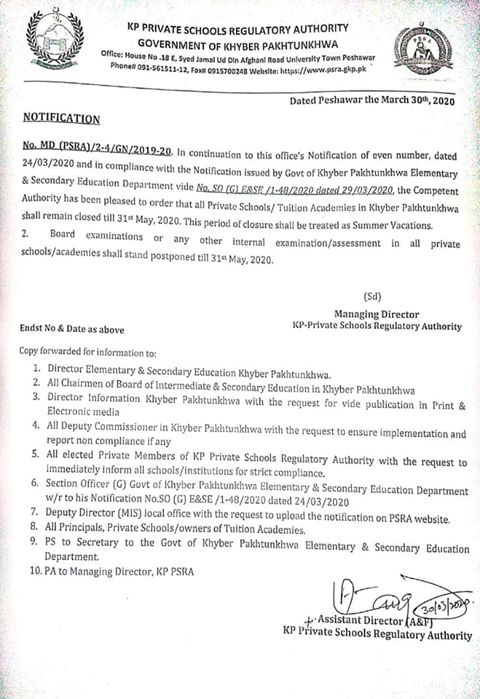 It is a good step by Private Schools of the province of Khyber Pakhtunkhwa as the followed the instructions of the Government. KPK Government has already announced advance holidays in Government schools and colleges till 31st May 2020. There is a large part of the students who belong to private educational institutions. Keeping in view the coronavirus situation in the province, Private Schools authorities have also decided to keep the schools closed as per instructions of the provincial Government. Now students should stay at home and prepare their studies online.